ZFIN ID: ZDB-FIG-150929-10
Lippok et al., 2014
- Pou5f1 protein expression and posttranslational modification during early zebrafish development. Developmental dynamics : an official publication of the American Association of Anatomists 243(3):468-77
Full text @ Dev. Dyn.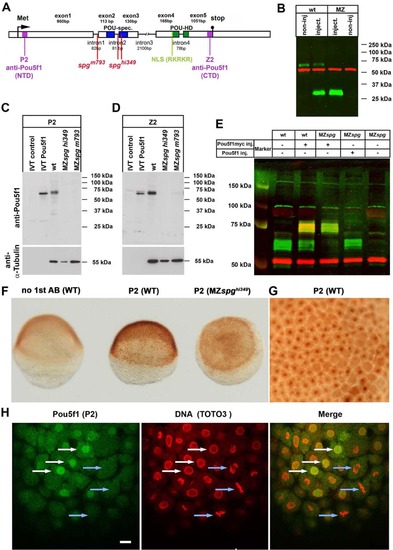 Fig. 1
Expression of Pou5f1 specific protein during early zebrafish embryo development. A: Schematic representation showing translation start (arrow) and stop codon, location of POU-specific (blue) and POU homeo-domains (green), and a putative nuclear localization site (NLS) based on sequence comparison to the mammalian Oct4 NLS (Pan et al., 2004) is also indicated (light green). Sequence used to produce Pou5f1 specific P2 and Z2 (purple) antibodies. Positions of the point mutation in spgm793 (Belting et al., 2011) and the insertion site in spghi349 mutants (Burgess et al., 2002) are indicated. B: Fluorescent Western blot analysis using Pou5f1 (P2, green) and α-tubulin (red) antibodies with extracts of 70% epiboly stage wild-type (WT) and MZspg whole embryo extracts. Embryos for samples labeled "inject" were injected with mRNA encoding the truncated spgm793 mutant form of Pou5f1. Endogenous Pou5f1 protein (green) was detected only in WT around 60 kDa. The overexpressed mutant truncated form of Pou5f1 was detected around 30 kDa only in mRNA injected embryos, but not in noninjected MZspg embryos, indicating that no detectable amounts of the truncated form accumulate in MZspg embryos. C,D: Western blot analysis using anti-Pou5f1 P2 (C) or Z2 (D) antibodies shows in vitro translated Pou5f1 as a single protein band at around 60 kDa, while in WT embryo extracts multiple bands are detected within a close molecular mass range similar to the in vitro transcribed protein. Pou5f1 signal was detected neither in MZspgm793 nor in MZspghi349 mutant embryos. anti-α-tubulin was used as loading control after stripping and re-blocking. E: Fluorescent Western blot analysis of extracts from WT and MZspg whole embryo extracts at 7 hpf. Anti-Pou5f1 P2 antibody shows Pou5f1 (green), anti-Myc shows Myc-tagged Pou5f1 (red), and anti α-tubulin the loading control (red). The protein band of Myc-tagged Pou5f1 was shifted to 75 kDa due to the Myc-tag, compared with un-tagged Pou5f1 (60 kDa). α-tubulin served as loading control (red, 55 kDa). F: Control for specificity of P2 Pou5f1 antibody in shield stage whole-mount embryos stained by DAB immunohistochemistry. Left embryo is WT control treated with anti-rabbit secondary antibodies only. Center WT embryo was stained with P2 plus secondary antibodies. Right embryo is a MZspghi349 mutant stained with P2 plus secondary antibodies. G: Higher magnification view of animal pole of sphere stage WT embryo revealing nuclear localization of signal in most cells. H: Confocal images of WT whole-mount embryos at sphere stage stained for anti-Pou5f1 (P2, green) and Toto3 (red) to visualize all nuclei. Blastomeres are shown which differ in cell cycle phases. White arrows indicate potential interphase nuclei and light blue arrows indicate blastomeres in mitosis. During mitosis chromatin is condensed, the nuclear envelope is not present, and Pou5f1 appears to redistribute to the cytoplasm. Animal views. Scale bar = 20 µm.
Antibody Labeling Details
No data available
Phenotype Details
No data available
Acknowledgments:
ZFIN wishes to thank the journal Developmental dynamics : an official publication of the American Association of Anatomists for permission to reproduce figures from this article. Please note that this material may be protected by copyright. Full text @ Dev. Dyn.