ZFIN ID: ZDB-FIG-120316-82
Bisgrove et al., 2012
- RFX2 is essential in the ciliated organ of asymmetry and an RFX2 transgene identifies a population of ciliated cells sufficient for fluid flow. Developmental Biology 363(1):166-178
Full text @ Dev. Biol.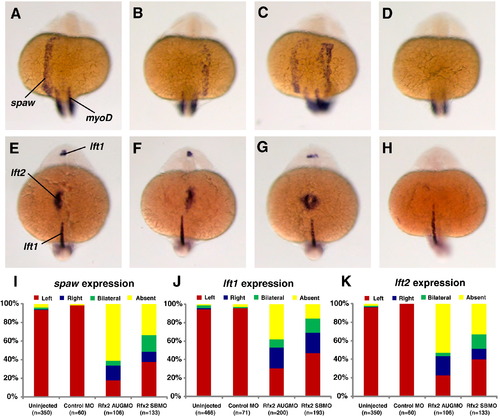 Fig. 3 Rfx2 functions upstream of early asymmetric LPM genes. In 19–21 somite-stage rfx2 morphants spaw was expressed in the lateral plate mesoderm on the left side (A, typical of wt embryos) as well as on the right side (B), bilaterally (C), or was not expressed (D). At the 22–24 somite-stage, the two lefty genes are expressed asymmetrically, with lft1 predominantly in the left diencephalon and lft2 expressed in the left heart field. Individual rfx2 morphants displayed this normal left-sided expression (E), or aberrant right-sided expression in both the diencephalon and heart field (F), bilateral expression in both (G), or an absence of expression (H). Midline expression of lft1 was normal in morphants. myod1 expression in somites was used to stage embryos. Embryos shown are rfx2 AUGMO; rfx2 SBMO are similar. Histograms depicting the percentages of spaw (I), lft1 (J) and lft2 (K) expression patterns in wild-type and rfx2 morphant embryos.
Antibody Labeling Details
No data available
Acknowledgments:
This image is the copyrighted work of the attributed author or publisher, and ZFIN has permission only to display this image to its users. Additional permissions should be obtained from the applicable author or publisher of the image.

Reprinted from Developmental Biology, 363(1), Bisgrove, B.W., Makova, S., Yost, H.J., and Brueckner, M., RFX2 is essential in the ciliated organ of asymmetry and an RFX2 transgene identifies a population of ciliated cells sufficient for fluid flow, 166-178, Copyright (2012) with permission from Elsevier. Full text @ Dev. Biol.