ZFIN ID: ZDB-FIG-111215-46
Li et al., 2011
- Abca12-mediated lipid transport and Snap29-dependent trafficking of lamellar granules are crucial for epidermal morphogenesis in a zebrafish model of ichthyosis. Disease models & mechanisms 4(6):777-85
Full text @ Dis. Model. Mech.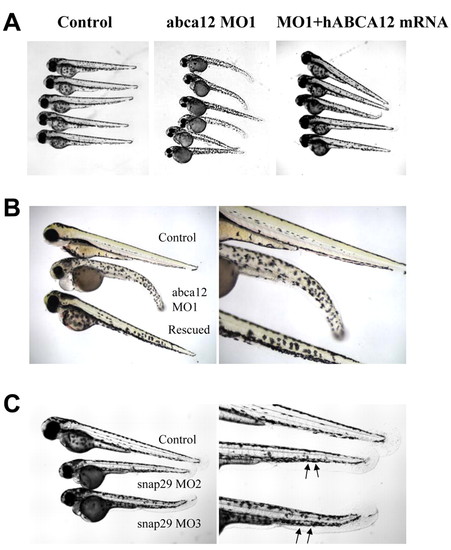 Fig. 4 Zebrafish phenotypes and their mRNA rescue at 3 dpf. (A) Phenotypic appearance of zebrafish larvae after injection with an abca12 MO1 morpholino (middle panel) compared with control larvae (left panel), and partial rescue with human ABCA12 mRNA (right panel). (B) Higher magnification of the larvae shown in A. (C) Phenotype of larvae at 3 dpf injected with snap29 morpholinos MO2 or MO3. The irregular contour of the epidermis is noted by arrows.
Gene Expression Details
No data available
Antibody Labeling Details
No data available
Acknowledgments:
ZFIN wishes to thank the journal Disease models & mechanisms for permission to reproduce figures from this article. Please note that this material may be protected by copyright. Full text @ Dis. Model. Mech.