ZFIN ID: ZDB-FIG-111102-3
EXPRESSION / LABELING:
| | |
| --- | --- |
| Genes: | |
| Fish: | |
| Anatomical Terms: | |
| Stage: | Long-pec |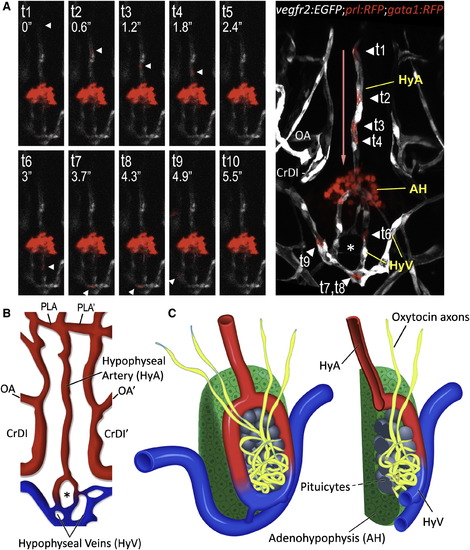 Fig. 3
3D Structure of the Hypophyseal Neurovascular Interface
(A and B) Identification of hypophyseal arteries and veins by real-time analysis of hypophyseal blood flow.
(A) Confocal time-lapsed images (t1–t10) of a single gata1+ blood cell (arrowhead) traveling from the hypophyseal artery into the neurohypophysis and its outflow through the hypophyseal veins. Superposition of all time points and the direction of blood flow (red arrow) are shown in the right panel. Adjacent Prl-RFP+ adenohypophyseal cells (arrow) served as a positional landmark.
(B) Schematic map of ventral head vasculature of the zebrafish larvae, including the newly annotated hypophyseal artery (red) and veins (blue). AH, adenohypophysis, CrDI, cranial division of the internal carotid artery; HyA, hypophyseal artery; HyV, hypophyseal veins; OA, optic artery; PLA, palatocerebral artery.
(C) Schematic representation of the 3D structure of the zebrafish pituitary depicting the various cellular components of the adeno- and neurohypophysis. A longitudinal section of this structure is shown on the right.
See also Figure S2 and Movie S5.
Antibody Labeling Details
No data available
Phenotype Details
No data available
Acknowledgments:
This image is the copyrighted work of the attributed author or publisher, and ZFIN has permission only to display this image to its users. Additional permissions should be obtained from the applicable author or publisher of the image.

Reprinted from Developmental Cell, 21(4), Gutnick, A., Blechman, J., Kaslin, J., Herwig, L., Belting, H.G., Affolter, M., Bonkowsky, J.L., and Levkowitz, G., The hypothalamic neuropeptide oxytocin is required for formation of the neurovascular interface of the pituitary, 642-654, Copyright (2011) with permission from Elsevier. Full text @ Dev. Cell