ZFIN ID: ZDB-FIG-110221-3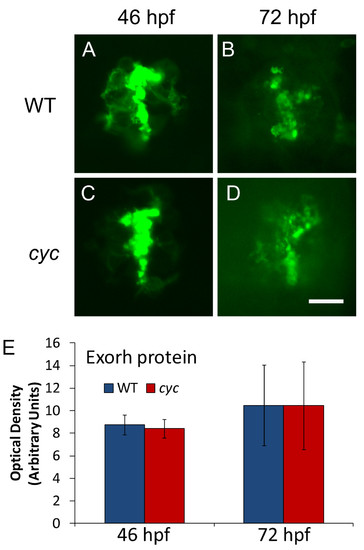 Fig. 3 Pineal Exorh protein expression is indistinguishable between cyc mutant and WT embryos. Embryos were fixed and processed for whole mount antibody staining with the anti-Rhodopsin antibody 4D2. Quantification of fluorescent antibody signal shows that optical density of the pineal immunostaining is not significantly different at either time point (46 hpf, ZT 22, n = 10 embryos, p = 0.41; 72 hpf, ZT 0, n = 10 larvae, p = 0.67). Images are dorsal views with anterior to the top. Experiment was repeated two times with similar results, and representative embryos are shown. Scale bar = 20 μm.
Antibody Labeling Details
No data available
Phenotype Details
No data available
Acknowledgments:
ZFIN wishes to thank the journal BMC Neuroscience for permission to reproduce figures from this article. Please note that this material may be protected by copyright. Full text @ BMC Neurosci.