ZFIN ID: ZDB-FIG-110112-21
Your Input Welcome
Thank you for submitting comments. Your input has been emailed to ZFIN curators who may contact you if additional information is required.
Oops. Something went wrong. Please try again later.
Lin et al., 2010
- Loss of Cofilin 1 Disturbs Actin Dynamics, Adhesion between Enveloping and Deep Cell Layers and Cell Movements during Gastrulation in Zebrafish. PLoS One 5(12):e15331
Full text @ PLoS One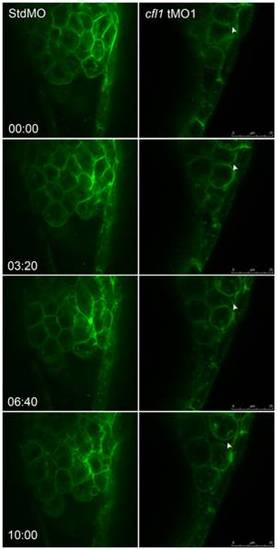 Fig. 7 Live cell imaging reveals loose cell-cell interactions between the DEL and EVL in cfl1 morphants.
Embryos injected with designated MOs and membrane-bound green fluorescent protein (GFP) mRNA, were dechorionated, immobilized, and examined by confocal microscopy for 10-min recordings at 10-s intervals per frame. The snapshots of representative embryos from the StdMO- (left column) or cfl1MO-injected embryos (right column) are shown. The recording times in minutes are denoted in the lower left corner of the left column. While StdMO-treated embryos showed continuous tight attachments between the DEL and EVL, DEL cells in cfl1 morphants did not form a tight connection with the EVL, which was further evidenced by the more-rounded cell shapes. Arrowheads indicate spaces between the EVL and DEL. A single-cell-thick EVL is to the right; yolk cells are toward the left; the animal pore is on the top; and the vegetal pore is at the bottom.
Gene Expression Details
No data available
Antibody Labeling Details
No data available
Acknowledgments:
ZFIN wishes to thank the journal PLoS One for permission to reproduce figures from this article. Please note that this material may be protected by copyright. Full text @ PLoS One