ZFIN ID: ZDB-FIG-101123-6
Joseph, 2004
- Zebrafish IRX1b in the embryonic cardiac ventricle. Developmental dynamics : an official publication of the American Association of Anatomists 231(4):720-726
Full text @ Dev. Dyn.
EXPRESSION / LABELING:
| | |
| --- | --- |
| Gene: | |
| Fish: | |
| Anatomical Term: | |
| Stage: | Long-pec |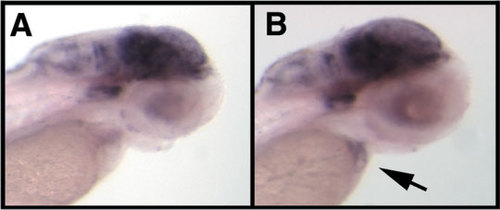 Fig. 3
IRX1b gene expression in silent heart mutant embryos. A,B: Whole-mount in situ hybridization shows weakened IRX1b cardiac expression in the silent heart genetic mutant (tc300b allele, at 54 hours postfertilization [hpf]; compared with IRX1b expression in a wild-type sibling embryo at 54 hpf (B, heart indicated by arrow).
Antibody Labeling Details
No data available
Phenotype Details
No data available
Acknowledgments:
ZFIN wishes to thank the journal Developmental dynamics : an official publication of the American Association of Anatomists for permission to reproduce figures from this article. Please note that this material may be protected by copyright. Full text @ Dev. Dyn.