ZFIN ID: ZDB-FIG-101021-41
Zhang et al., 2010
- Binding between Crossveinless-2 and Chordin von Willebrand factor type C domains promotes BMP signaling by blocking Chordin activity. PLoS One 5(9):e12846
Full text @ PLoS One
PHENOTYPE:
| | |
| --- | --- |
| Fish: | |
| Knockdown Reagents: | |
| Observed In: | |
| Stage: | Prim-15 |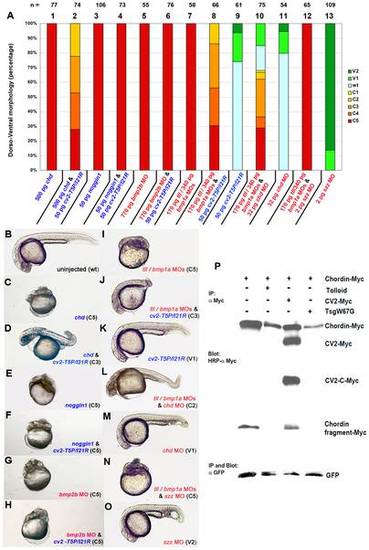 Fig. 4 CV2 can antagonize the dorsalizing effect of Chordin, but not of Noggin1, while the anti-Chordin effect of CV2 is both dependent and independent of Tolloid/Bmp1a.
(A) Graphical illustration of proportions of dorsalized and ventralized phenotypes generated upon injection of cv2-T5P/I21R mRNA into wild-type embryos (lane 9), into embryos after chordin or noggin1 overexpression (lanes 1–4), or into bmp2b (lanes 5,6) or tolloid/bmp1a morphants (lanes 7,8), in comparison to the response of the tolloid/bmp1a double morphants to co-injection of chordin MO (lanes 10,11) or sizzled MO (lanes 12,13). Numbers of analyzed embryos are indicated above the columns; columns are numbered. (B–O) Representative zebrafish embryos after mRNA and/or MO injections as in (A). Lateral views on live embryos at 32 hpf. (P) Western blot detecting C-terminally-Myc-tagged Chordin (upper panel) or GFP (lower panel) in zebrafish embryos after mRNA injections. Lanes were loaded with precipitates of extracts from 50 mid-gastrula stage embryos (85% epiboly stage; 9 hpf) that had been injected at the 1-cell stage with 300 pg chordin and – as injection control - gfp mRNA per embryo, or with the same amounts of chordin and gfp mRNA, plus 600 pg mRNA encoding CV2, Tolloid or TsgW67G, respectively. Sibling embryos from the various injections had been allowed to develop further and displayed dorsalization of similar strengths at 32 hpf. In the upper blot, in addition to Chordin, Myc-tagged full-length CV2 and its C-terminal fragment CV2-C could be detected.
Gene Expression Details
No data available
Antibody Labeling Details
No data available
Acknowledgments:
This image is the copyrighted work of the attributed author or publisher, and ZFIN has permission only to display this image to its users. Additional permissions should be obtained from the applicable author or publisher of the image. Full text @ PLoS One