ZFIN ID: ZDB-FIG-091214-74
Felip et al., 2009
- Evidence for two distinct KiSS genes in non-placental vertebrates that encode kisspeptins with different gonadotropin-releasing activities in fish and mammals. Molecular and Cellular Endocrinology 312(1-2):61-71
Full text @ Mol. Cell. Endocrinol.
EXPRESSION / LABELING:
| | |
| --- | --- |
| Genes: | |
| Fish: | |
| Anatomical Terms: | |
| Stage: | Adult |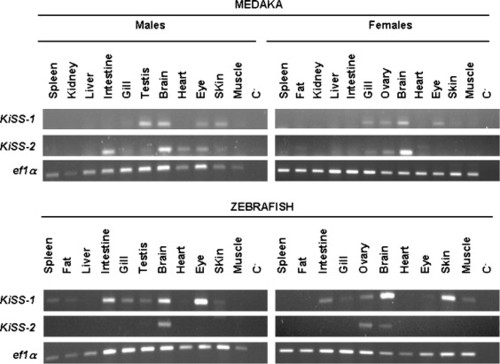 Fig. 4 RT-PCR analysis of medaka and zebrafish KiSS-1 and KiSS-2 expression in tissues from male and female adult fish. Total RNA extracted from 3 to 6 pooled tissues was reverse-transcribed and amplified by PCR. mdef1α and zfef1α were used as an internal control to verify the integrity of the RNAs. (C-) Negative control for PCR which were performed with sterile water as template.
Antibody Labeling Details
No data available
Phenotype Details
No data available
Acknowledgments:
ZFIN wishes to thank the journal Molecular and Cellular Endocrinology for permission to reproduce figures from this article. Please note that this material may be protected by copyright.

Reprinted from Molecular and Cellular Endocrinology, 312(1-2), Felip, A., Zanuy, S., Pineda, R., Pinilla, L., Carrillo, M., Tena-Sempere, M., and Gómez, A., Evidence for two distinct KiSS genes in non-placental vertebrates that encode kisspeptins with different gonadotropin-releasing activities in fish and mammals, 61-71, Copyright (2009) with permission from Elsevier. Full text @ Mol. Cell. Endocrinol.