ZFIN ID: ZDB-FIG-090817-31
EXPRESSION / LABELING:
| | |
| --- | --- |
| Genes: | |
| Fish: | |
| Anatomical Term: | |
| Stage: | Day 5 |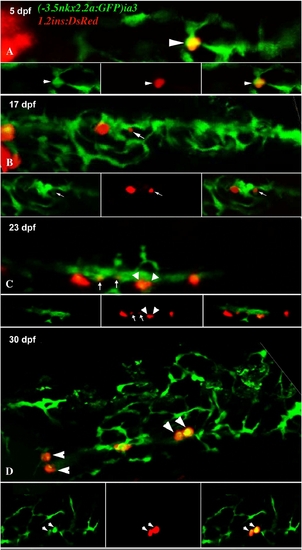 Fig. 6 Differentiation of nkx2.2-expressing duct cells into insulin-expressing cells occurs in the intrapancreatic duct during larval stages. (A–D) Projections of confocal stack images at different larval stages of Tg(-3.5nkx2.2a:GFP)ia3/Tg(-1.2ins:dsRed) fish. Single focal plans of channels red, green and their overlay are represented at the bottom of each panel. In panel B the small arrow indicates the budding of an insulin-expressing cell from the duct. (C) Budding of two new insulin-expressing cells (arrows) occurring with a concomitant division of an insulin-expressing cell (arrowheads). (D) Pairs of insulin-expressing cells lie among nkx2.2a-expressing duct cells (arrowheads).
Antibody Labeling Details
No data available
Phenotype Details
No data available
Acknowledgments:
ZFIN wishes to thank the journal Developmental Biology for permission to reproduce figures from this article. Please note that this material may be protected by copyright.

Reprinted from Developmental Biology, 332(2), Moro, E., Gnügge, L., Braghetta, P., Bortolussi, M., and Argenton, F., Analysis of beta cell proliferation dynamics in zebrafish, 299-308, Copyright (2009) with permission from Elsevier. Full text @ Dev. Biol.