ZFIN ID: ZDB-FIG-090817-27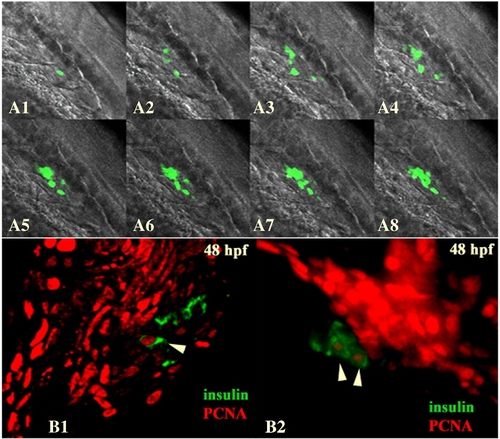 Fig. 2 Generation of insulin-expressing beta cells during embryonic and larval stages. (A) Fig. A1 to A8 are projections of confocal stacks recorded every 30 min from a dorsal view of a representative 20–25 hpf ins:GFP transgenic embryo. The whole movie (39 stacks, 5 hrs) can be seen in the Supplemental Movie 1. (B1, B2) Immunofluorescence with a anti-PCNA (red) and anti-insulin (green) on 48 hpf larva. Proliferating beta cells are indicated by an arrowhead.
Antibody Labeling Details
Phenotype Details
No data available
Acknowledgments:
ZFIN wishes to thank the journal Developmental Biology for permission to reproduce figures from this article. Please note that this material may be protected by copyright.

Reprinted from Developmental Biology, 332(2), Moro, E., Gnügge, L., Braghetta, P., Bortolussi, M., and Argenton, F., Analysis of beta cell proliferation dynamics in zebrafish, 299-308, Copyright (2009) with permission from Elsevier. Full text @ Dev. Biol.