ZFIN ID: ZDB-FIG-081202-9
EXPRESSION / LABELING:
| | |
| --- | --- |
| Genes: | |
| Antibodies: | |
| Fish: | |
| Anatomical Term: | |
| Stage: | Prim-5 |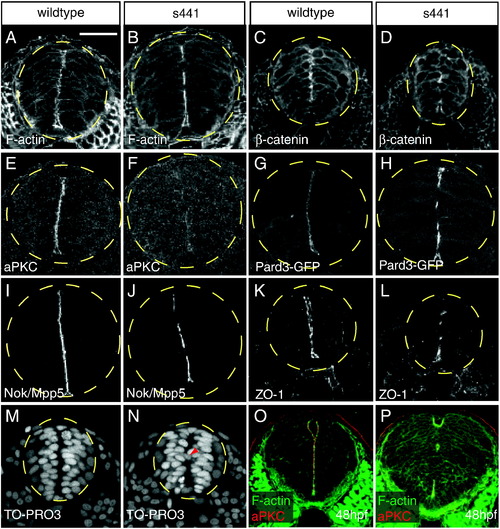 Fig. 2 s441 mutants fail to form continuous apical membranes in the neural tube. (A-P) Transverse sections through wildtype and s441 mutant neural tubes between the first and eighth somite at 24 (A–N) and 48 hpf (O–P). The dashed yellow circles outline the neural tube. Embryos were analyzed for localization of filamentous actin (A, B), β-catenin (C, D), aPKC (E, F), Pard3:GFP (G, H), Nok/Mpp5 (I–J), ZO-1 (K, L), TO-PRO3 (M, N), and both filamentous actin and aPKC (O–P). (A, C, E, G, I, K) Wildtype embryos form continuous apical membranes. (B, D, F, H, J, L) s441 mutant embryos form discontinuous apical membranes. (F) Note that apical aPKC levels are dramatically reduced in s441 mutants. (M) In wildtype neural tubes, nuclei are organized and positioned away from the midline. (N) In s441 mutant neural tubes, some nuclei (arrowhead) are positioned across the midline. (panels O–P) At 48 hpf, the apical membranes in the s441 mutant neural tubes remain discontinuous. Scale bar represents 50 μm and is applicable to all panels in this figure.
Antibody Labeling Details
Acknowledgments:
ZFIN wishes to thank the journal Developmental Biology for permission to reproduce figures from this article. Please note that this material may be protected by copyright.

Reprinted from Developmental Biology, 324(1), Munson, C., Huisken, J., Bit-Avragim, N., Kuo, T., Dong, P.D., Ober, E.A., Verkade, H., Abdelilah-Seyfried, S., and Stainier, D.Y., Regulation of neurocoel morphogenesis by Pard6gammab, 41-54, Copyright (2008) with permission from Elsevier. Full text @ Dev. Biol.