ZFIN ID: ZDB-FIG-080925-2
EXPRESSION / LABELING:
Gene:
Antibodies:
Fish:
Condition:
Anatomical Terms:
Stage Range:

Long-pec

to

Day 5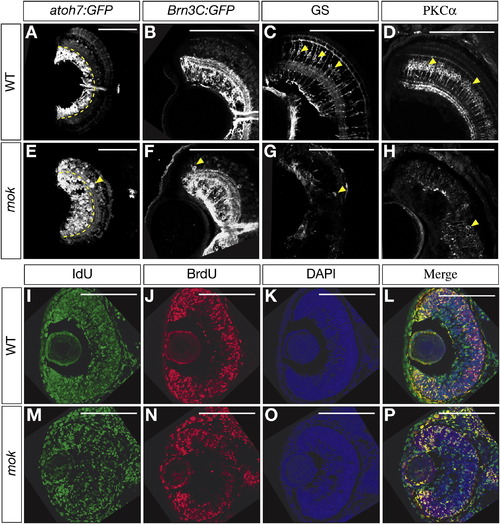 Fig. 2 moks309 Retinas Have Increased RGCs and Decreased Bipolar and Müller Glia Cells Due to Premature Neurogenesis
(A–H) Horizontal 5 dpf retina sections. GFP expression under the control of atoh7 (A and E) and Brn3c (Pou4f3) (B and F) promoters reveals an increase in RGCs in moks309 (E and F) as compared to the wild-type (A and B), with some RGCs ectopically located outside the GCL (yellow arrowheads in [E] and [F]). The Müller glia marker GS (C and G) and the bipolar cell marker PKCα (D and H) show fewer immunoreactive cell bodies (yellow arrowheads) in moks309 (G and H) as compared to wild-type (C and D).
(I–P) Horizontal 50 hpf retina sections stained for IdU (green, injected at 26 hpf), BrdU (red, injected at 38 hpf), and DAPI (blue). moks309 retinas (M–P) show more IdU-positive and BrdU-negative cells than wild-type, indicating that a larger number of progenitors had exited the cell cycle between 26 and 38 hpf.
Scale bars, 100 μm.
Antibody Labeling Details
Phenotype Details
| Fish | Conditions | Stage | Phenotype |
| --- | --- | --- | --- |
| dctn1as309/s309 (TL) | chemical treatment: 5-bromo-2'-deoxyuridine, chemical treatment: pharmaceutical | Long-pec | retina layer formation disrupted, abnormal |
| dctn1as309/s309; rw021Tg (TL) | standard conditions | Day 5 | retina layer formation disrupted, abnormal |
| | | Day 5 | retinal ganglion cell increased amount, abnormal |
| | | Day 5 | retinal ganglion cell layer retinal ganglion cell increased amount, abnormal |
| | | Day 5 | retinal ganglion cell mislocalised, abnormal |
| dctn1as309/s309; s356tTg (TL) | standard conditions | Day 5 | retina layer formation disrupted, abnormal |
| | | Day 5 | retinal ganglion cell increased amount, abnormal |
| | | Day 5 | retinal ganglion cell layer retinal ganglion cell increased amount, abnormal |
| | | Day 5 | retinal ganglion cell mislocalised, abnormal |
Acknowledgments:
This image is the copyrighted work of the attributed author or publisher, and ZFIN has permission only to display this image to its users. Additional permissions should be obtained from the applicable author or publisher of the image.

Reprinted from Cell, 134(6), Del Bene, F., Wehman, A.M., Link, B.A., and Baier, H., Regulation of neurogenesis by interkinetic nuclear migration through an apical-basal notch gradient, 1055-1065, Copyright (2008) with permission from Elsevier. Full text @ Cell