ZFIN ID: ZDB-FIG-080411-54
Donizetti et al., 2008
- Differential expression of duplicated genes for prothymosin alpha during zebrafish development. Developmental dynamics : an official publication of the American Association of Anatomists 237(4):1112-1118
Full text @ Dev. Dyn.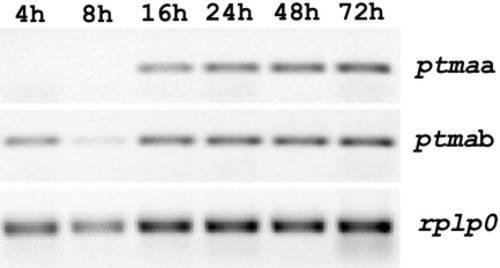 Fig. 2 Temporal expression pattern of zebrafish ptmaa and ptmab determined by RT-PCR analysis at different embryonic stages indicated on top as hours post fertilization (h). Amplification of rplp0 cDNA fragment was a control of RT-PCR sensitivity in the assay.
Antibody Labeling Details
No data available
Phenotype Details
No data available
Acknowledgments:
ZFIN wishes to thank the journal Developmental dynamics : an official publication of the American Association of Anatomists for permission to reproduce figures from this article. Please note that this material may be protected by copyright. Full text @ Dev. Dyn.