ZFIN ID: ZDB-FIG-070925-52
PHENOTYPE:
| | |
| --- | --- |
| Fish: | |
| Observed In: | |
| Stage: | Adult |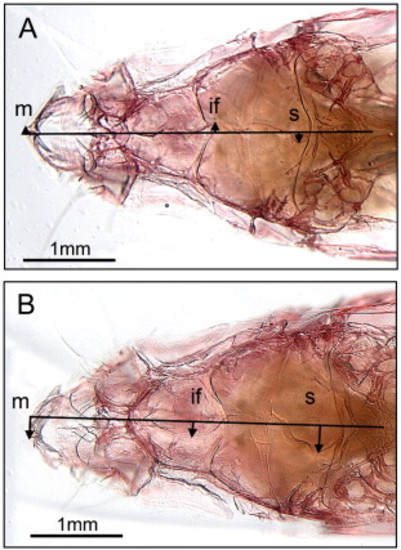 Fig. 2 Fig. 2. Mandibular symmetry and cranial suture patterning is altered in aceti282a/+ zebrafish. The cranial midline was defined as the midline of the neurocranium. In homozygous wild-type zebrafish, the mandibular symphysis (m) was oriented along the cranial midline (A). In aceti282a/+ animals, however, the mandible exhibited pronounced asymmetry (B). The interfrontal (if) and sagittal (s) sutures in aceti282a/+ zebrafish also deviated significantly from the midline compared to wild-type siblings (F-ratio = 20.8, p < 0.0001, and F-ratio = 8.36, p = 0.006, respectively).
Gene Expression Details
No data available
Antibody Labeling Details
No data available
Acknowledgments:
ZFIN wishes to thank the journal Developmental Biology for permission to reproduce figures from this article. Please note that this material may be protected by copyright.

Reprinted from Developmental Biology, 306(2), Albertson, R.C., and Yelick, P.C., Fgf8 haploinsufficiency results in distinct craniofacial defects in adult zebrafish, 505-515, Copyright (2007) with permission from Elsevier. Full text @ Dev. Biol.