ZFIN ID: ZDB-FIG-061218-1
Smith et al., 2006
- Inhibition of BMP signaling during zebrafish fin regeneration disrupts fin growth and scleroblast differentiation and function. Developmental Biology 299(2):438-454
Full text @ Dev. Biol.
EXPRESSION / LABELING:
| | |
| --- | --- |
| Genes: | |
| Fish: | |
| Condition: | |
| Anatomical Terms: | |
| Stage: | Adult |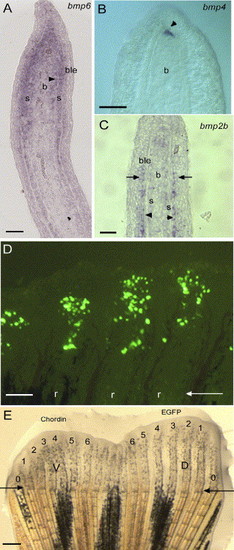 Fig. 1 Expression of bmp2, 4 and 6 on longitudinal sections of 4 dpa fin regenerates using in situ hybridization. (A) bmp6 is expressed in the scleroblasts, cells medial to the actinotrichia (arrowhead), cells of the basal layer of the epidermis in the distal part of the regenerate and the proliferating blastema. (B) bmp4 expression is restricted to the distal blastema (arrowhead). (C) bmp2b expression is found in the newly differentiating scleroblasts and in the adjacent cells of the basal layer of the epidermis (arrow). (D) EGFP expression in 20 to 50 mesenchymal cells 1 day after in vivo transfection by microinjection of the CMV-EGFP reporter construct into the blastema of three fin rays at 3 dpa. (E) Zebrafish caudal fin 3 days following injection of the CMV-EGFP construct in the blastema of rays 1 to 6 of the dorsal half of the fin and of the CMV-chordin construct in the ventral (V) rays (1-6). Outermost non-bifurcating rays (rays 0) were not counted. Arrows in panels D and E indicate the level of amputation. D, dorsal; V, ventral. 1-6 represent ray number. r, fin ray; s, scleroblasts; b, blastema; ble, basal layer of the epidermis. Scale bars: (A-C) = 25 μm, (D) = 100 μm, (E) = 400 μm.
Antibody Labeling Details
No data available
Phenotype Details
No data available
Acknowledgments:
ZFIN wishes to thank the journal Developmental Biology for permission to reproduce figures from this article. Please note that this material may be protected by copyright.

Reprinted from Developmental Biology, 299(2), Smith, A., Avaron, F., Guay, D., Padhi, B.K., and Akimenko, M.A., Inhibition of BMP signaling during zebrafish fin regeneration disrupts fin growth and scleroblast differentiation and function, 438-454, Copyright (2006) with permission from Elsevier. Full text @ Dev. Biol.