ZFIN ID: ZDB-FIG-060629-6
PHENOTYPE:
| | |
| --- | --- |
| Fish: | |
| Knockdown Reagents: | |
| Observed In: | |
| Stage: | Day 4 |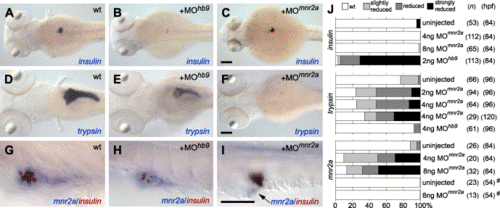 Fig. 6 hb9 and mnr2a are differentially required in endocrine and exocrine pancreas formation. Expression of insulin at 3.5 dpf (A–C), trypsin at 4 dpf (D–F), and mnr2a (purple) and insulin (red) at 3.5 dpf in higher magnification (G–I) in wild type embryos (A, D, G) and in embryos injected with 2 ng MOhb9 (B, E, H) or 4 ng MOmnr2a (C, F, I). (G–I) Expression of insulin is strongly reduced in embryos injected with MOhb9 (B, H) but not in embryos injection of MOmnr2a (C, I). In contrast, expression of trypsin is strongly reduced after injection of MOmnr2a (F) but is not changed after injection of MOhb9 (E). Similarly, mnr2a expression is only reduced in MOmnr2a-injected embryos but not in MOhb9-injected embryos (I); arrow marks mnr2a expression. Embryos are shown from dorsal (A–F) or in a higher magnification from lateral with anterior left (G–I). (J) Summary of morpholino experiments. Indicated numbers of embryos (n) were injected with the indicated type and amount of morpholino and analyzed for expression of insulin, trypsin or mnr2a at indicated stages (hpf). The phenotypes of the embryos were classified relative to the expression level of the marker genes in the un-injected embryos: average wild type level (wt), reduced up to 50% (slightly reduced), reduction up to 10% (reduced), reduced to less than 10% or missing (strongly reduced). While injection of MOhb9 or MOmnr2a could result in total loss of insulin or trypsin expression, respectively, we did not find MOmnr2a embryos entirely lacking endoderm mnr2a expression. Note that the un-injected embryos frequently show different levels of mnr2a and trypsin expression representing natural variations found in zebrafish. (#) All analyzed embryos showed similar level of expression and since only few mnr2a-positive cells can be detected at 54 hpf, the presence of mnr2a-expressing cells was classified as 100%. Scale bars correspond to 100 μm.
Antibody Labeling Details
No data available
Acknowledgments:
ZFIN wishes to thank the journal Developmental Biology for permission to reproduce figures from this article. Please note that this material may be protected by copyright.

Reprinted from Developmental Biology, 268(2), Wendik, B., Maier, E., and Meyer, D., Zebrafish mnx genes in endocrine and exocrine pancreas formation, 372-383, Copyright (2004) with permission from Elsevier. Full text @ Dev. Biol.