Das et al., 2013
- Participation of PI3-kinase/Akt signalling in insulin stimulation of p34cdc2 activation in zebrafish oocyte: Phosphodiesterase 3 as a potential downstream target. Molecular and Cellular Endocrinology 374(1-2):46-55
Full text @ Mol. Cell. Endocrinol.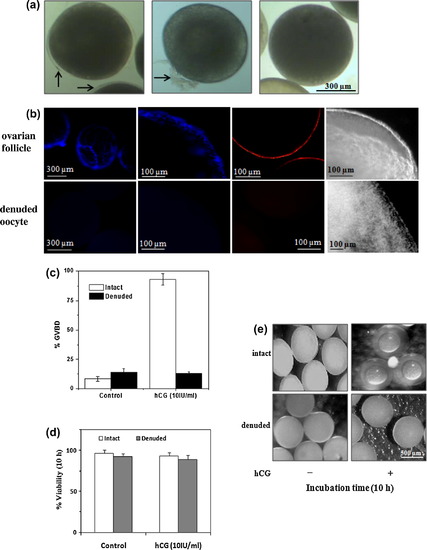 Fig. 1 Representative micrographs of fully grown zebrafish oocytes (mean diameter <650 μm) at various steps during removal of follicular wall components due to collagenase treatment (a). Arrows indicate follicle layer. Comparison of surface images of fully grown ovarian follicles (upper panel) with denuded oocytes (lower panel) either stained with DAPI or PI under an upright-fluorescent microscope (b). Corresponding phase contrast images at higher magnification are also shown (extreme right). DAPI or PI positive cells reveal the presence of follicle layer. The intact follicles and denuded oocytes were incubated in vitro with hCG (10 IU/ml of culture media) for 10 h and scored for GVBD (c) and percent viability (d). Representative micrographs of the cultured follicles and collagenase-treated oocytes after 10 h of incubation recorded in reflected light against the dark background under stereo zoom microscope (e).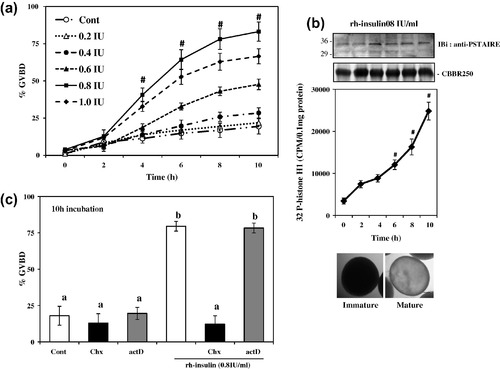 Fig. 2 Effect of rh-insulin on meiotic maturation in zebrafish oocytes in vitro. Denuded oocytes were incubated either without (control) or with different doses of rh-insulin (0.2–1 IU/ml) for indicated time intervals (a), immunoblot analyses using anti-p34cdc2 (PSTAIRE) antibody (upper panel) and time kinetics of histone H1 kinase activation (middle panel) along with oocyte photomicrographs (lower panel) from untreated control and insulin stimulated group (b), priming (2 h) with actinomycin-D (actD, 100 nM) and cycloheximide (Chx, 100 μg/ml) on rh-insulin-induced oocyte GVBD (c). Values are mean ± SEM of three independent experiments, #P < 0.001 versus 0 h control. Data were also analyzed by one-way ANOVA and Duncan's Multiple Range Test. Values with different superscripts (c) differ significantly from each other (P < 0.05). Scale bar <100 μm, staining with Coomassie brilliant blue R250 (CBBR250) revealed equal protein loading.
Acknowledgments:
ZFIN wishes to thank the journal Molecular and Cellular Endocrinology for permission to reproduce figures from this article. Please note that this material may be protected by copyright.

Reprinted from Molecular and Cellular Endocrinology, 374(1-2), Das, D., Khan, P.P., and Maitra, S., Participation of PI3-kinase/Akt signalling in insulin stimulation of p34cdc2 activation in zebrafish oocyte: Phosphodiesterase 3 as a potential downstream target, 46-55, Copyright (2013) with permission from Elsevier. Full text @ Mol. Cell. Endocrinol.