ZFIN ID: ZDB-FIG-190723-1261
Your Input Welcome
Thank you for submitting comments. Your input has been emailed to ZFIN curators who may contact you if additional information is required.
Oops. Something went wrong. Please try again later.
Lessieur et al., 2019
- Ciliary genes arl13b, ahi1 and cc2d2a differentially modify expression of visual acuity phenotypes but do not enhance retinal degeneration due to mutation of cep290 in zebrafish. PLoS One 14:e0213960
Full text @ PLoS One
EXPRESSION / LABELING:
| | |
| --- | --- |
| Antibodies: | |
| Fish: | |
| Anatomical Terms: | |
| Stage: | Adult |
PHENOTYPE:
| | |
| --- | --- |
| Fish: | |
| Observed In: | |
| Stage: | Adult |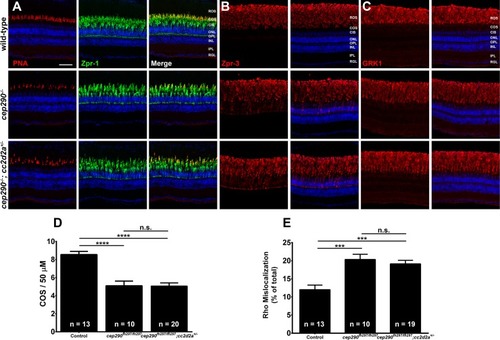 Fig 10
Panels show immunohistochemical analysis of dorsal retinas from wild-type (top), cep290fh297/fh297 (middle), and cep290fh297/fh297;cc2d2a+/- mutants (bottom) at 6 months of age stained with (A) PNA (red) and Zpr-1 (green) to label cone photoreceptor; (B) Zpr-3 to label rhodopsin; or (C) GRK1 to label rhodopsin kinase. ROS, rod outer segments; COS, cone outer segments; ONL, outer nuclear layer; OPL, outer plexiform layer; INL, inner nuclear layer; IPL, inner plexiform layer; RGC, retinal ganglion cells. Scale bar: 50 μm. (D) Quantification of cone outer segment density or (E) rhodopsin mislocalization from the indicated genotypes at 6 months of age. See methods section for details on quantification. Removing one allele of cc2d2a from a cep290fh297/fh297mutant background had no effect on cone degeneration or rhodopsin mislocalization. At least 10 unique fish over at least 2 independent experiments were evaluated. *** P < 0.0005; **** P < 0.0001 as determined by a 1-way ANOVA with a Multiple Comparisons test and Tukey corrections. Data represented as means ± s.e.m.
Gene Expression Details
No data available
Antibody Labeling Details
Acknowledgments:
ZFIN wishes to thank the journal PLoS One for permission to reproduce figures from this article. Please note that this material may be protected by copyright. Full text @ PLoS One