ZFIN ID: ZDB-FIG-180711-73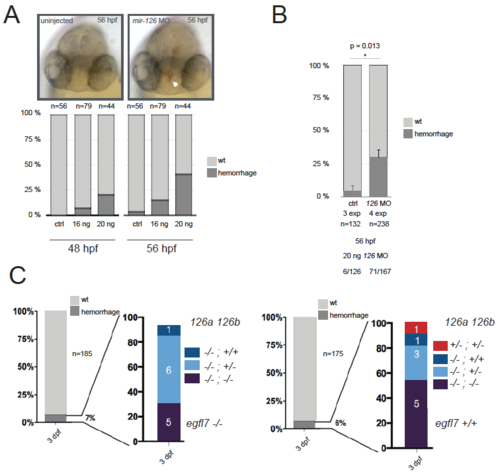 Fig. S7
Vascular integrity is not obviously affected in mir-126 mutant embryos or mir-126; egfl7 compound mutants. (A,B) Injection of 16 or 20 ng of mir-126 MO results in brain haemorrhage by 48 hpf. (C) On the contrary, analysis of a population of mir-126 mutant larvae reveals a small fraction of larvae (not exclusively double mutant) exhibiting brain haemorrhage. Left and right graphs are for egfl7 mutant and wild-type backgrounds, respectively.
Gene Expression Details
No data available
Antibody Labeling Details
No data available
Acknowledgments:
This image is the copyrighted work of the attributed author or publisher, and ZFIN has permission only to display this image to its users. Additional permissions should be obtained from the applicable author or publisher of the image.

Reprinted from Developmental Biology, 437(2), Kontarakis, Z., Rossi, A., Ramas, S., Dellinger, M.T., Stainier, D.Y.R., Mir-126 is a conserved modulator of lymphatic development, 120-130, Copyright (2018) with permission from Elsevier. Full text @ Dev. Biol.