ZFIN ID: ZDB-FIG-161212-7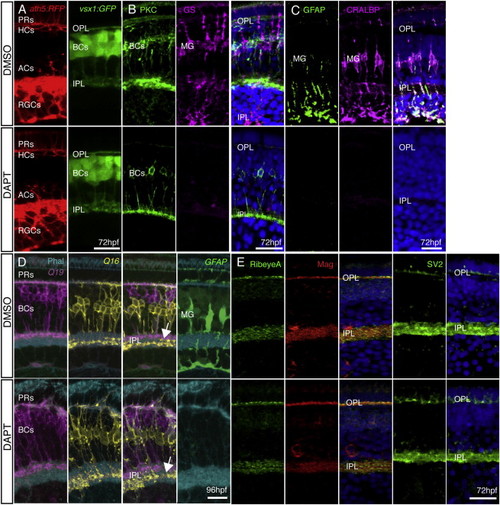 Fig. 4
MG Are Not Required for Retinal Organization or Plexiform Layer Development
(A) ath5:GAP-RFP and vsx1:GFP show that all neural retinal cell types are present and correctly positioned in DMSO-treated control embryos and after DAPT treatment.
(B and C) Treatment with DAPT at 33 hpf completely removed MG in the retina. PKC staining is unperturbed by DAPT treatment, indicating BC differentiation is unaffected. However, DAPT-treated embryos show a complete loss of MG when stained with specific markers for GS, CRALBP, and GFAP when compared with DMSO controls.
(D) The IPL forms and sublaminates properly in the absence of MG. nyx:Gal4; UAS:MYFPQ16, and vsx1:MCeruleanQ19 fish show labeling of specific subsets of BCs that stratify in the apical (OFF) or basal (ON) domains of the IPL. Imaging of triple transgenics Q16;Q19;gfap:GFP treated with DAPT shows that the IPL still forms and BC axons sublaminate properly (arrow). Lack of gfap:GFP signal confirms that there are no MG in the areas of proper sublamination.
(E) Pre- and postsynaptic markers remain in the plexiform layers lacking MG. Staining for the presynaptic markers RibeyeA and SV2 and the postsynaptic density protein Maguk (Mag) is unperturbed in embryos lacking MG at 72 hpf. Scale bars, 10 μm (A and D) and 20 μm (B, C, and E).
Antibody Labeling Details
Acknowledgments:
ZFIN wishes to thank the journal Cell Reports for permission to reproduce figures from this article. Please note that this material may be protected by copyright. Full text @ Cell Rep.