ZFIN ID: ZDB-FIG-160525-27
EXPRESSION / LABELING:
| | |
| --- | --- |
| Antibody: | |
| Fish: | |
| Anatomical Terms: | |
| Stage: | Prim-15 |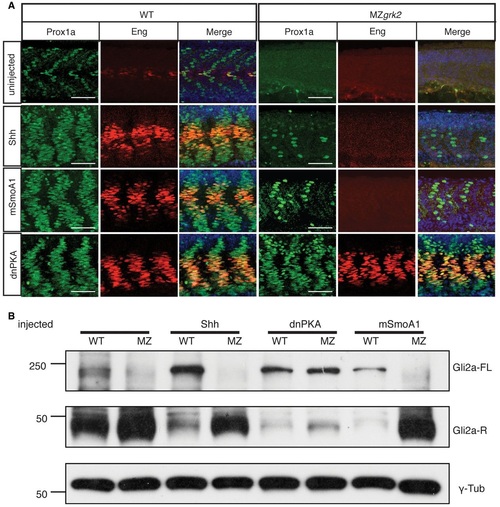 Fig. 3
Grk2 acts upstream of Gli processing
A. Prox1a and Eng expression in the myotome of 30hpf wildtype (WT) and MZgrk2 embryos injected with mRNAs encoding Shh, dnPKA or mSmoA1GFP. Each panel shows Prox1a in green, Eng in red and the merged images with DAPI staining in blue. The colabelling for Prox1a and Eng (orange) is indicative of MP differentiation (n = 30 for each sample). Scale bar, 50 µm.
B. Western blot showing levels of Gli2aFL and Gli2aR forms in 20hpf wildtype (WT) and MZgrk2 (MZ) embryos injected with mRNA encoding Shh, dnPKA or mSmoA1GFP, respectively. γ-tubulin was used as a loading control. Three biological replicates of this analysis were performed.
Gene Expression Details
No data available
Antibody Labeling Details
Acknowledgments:
ZFIN wishes to thank the journal EMBO reports for permission to reproduce figures from this article. Please note that this material may be protected by copyright. Full text @ EMBO Rep.