ZFIN ID: ZDB-FIG-160316-6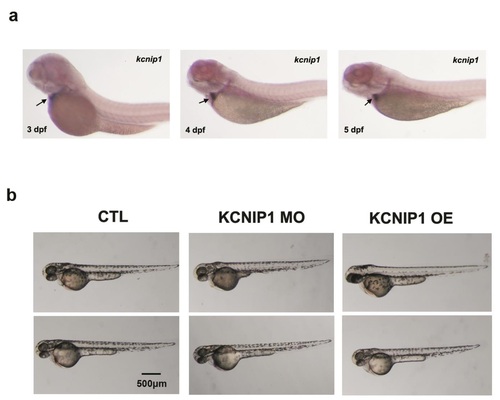 Fig. S3
Cardiac expression of KCNIP1 and gross phenotypes of KCNIP1-knockdown, overexpression and control hearts. (a)Whole mount in situ hybridization of 3dpf, 4-dpf and 5dpfembryos shows expression (dark brown staining) of KCNIP1 in the heart(arrows). dpf, days post-fertilization.(b) Bright-field micrographs of anesthetized 3 days post fertilization control embryos (CTL) and embryos injected with KCNIP1 morpholinos (KCNIP1 MO) or mRNA (KCNIP1 OE). Scale bar, 500 µm.
Antibody Labeling Details
No data available
Acknowledgments:
ZFIN wishes to thank the journal Nature communications for permission to reproduce figures from this article. Please note that this material may be protected by copyright. Full text @ Nat. Commun.