ZFIN ID: ZDB-FIG-160217-3
EXPRESSION / LABELING:
| | |
| --- | --- |
| Gene: | |
| Fish: | |
| Anatomical Terms: | |
| Stage: | Adult |
PHENOTYPE:
| | |
| --- | --- |
| Fish: | |
| Observed In: | |
| Stage: | Adult |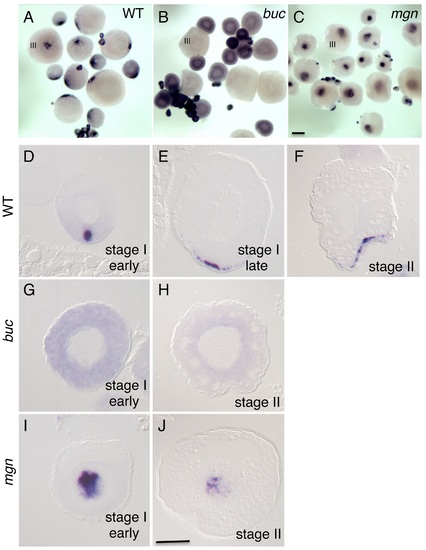 Fig. 4
Localization of grip2a mRNA in wild-type and mutant oocytes.
A-C) Whole mount in situ hybridization of dissected ovaries from wild-type (A), bucky ball (buc, B) and magellan (mgn, C) mutant females. In (A-C) oocytes at stage III of development are indicated. Smaller oocytes are at stages I and II, which are difficult to differentiate in whole mounts at this magnification. The grip2a mRNA localization domain is observed in an asymmetric cortical position in wild-type oocytes (A) but is unlocalized and diffuse in buc oocytes (B) and internally-located in mgn mutants (C). D-J) Sections of wild-type and mutant oocytes at the indicated stages after labeling to detect grip2a mRNA. Stages are as indicated in the panel and were determined by size and oocyte morphology according to [101]. D–F) Wild-type oocytes showing localization to the presumptive Balbiani Body (D) and subsequent localization to a cortical domain of the oocyte corresponding to the presumptive vegetal pole (E-F). G,H) buc mutant oocytes lack the Balbiani body [39], [43] and the grip2a mRNA subcellular localization domain in stage I and II oocytes. I) mgn mutant stage I oocytes exhibit an enlarged Balbiani body [40] and displayed an enlarged grip2a mRNA localization domain. J) Stage II mgn mutant oocytes fail to localize transcripts to the vegetal pole which instead persist in an internal domain [40], as observed also for grip2a mRNA. Number of oocytes examined were as follows: wild-type: early stage I: 13, stage II: 12; buc: early stage I: 35, stage II: 26; mgn: early stage I: 23, stage II: 18. Magnification bar in (C) corresponds to 250 µm for panels (A-C), and in (J) to 50 µm for panels (D–J).
Antibody Labeling Details
No data available
Acknowledgments:
ZFIN wishes to thank the journal PLoS Genetics for permission to reproduce figures from this article. Please note that this material may be protected by copyright. Full text @ PLoS Genet.