ZFIN ID: ZDB-FIG-140918-3
EXPRESSION / LABELING:
| | |
| --- | --- |
| Genes: | |
| Fish: | |
| Anatomical Terms: | |
| Stage: | Adult |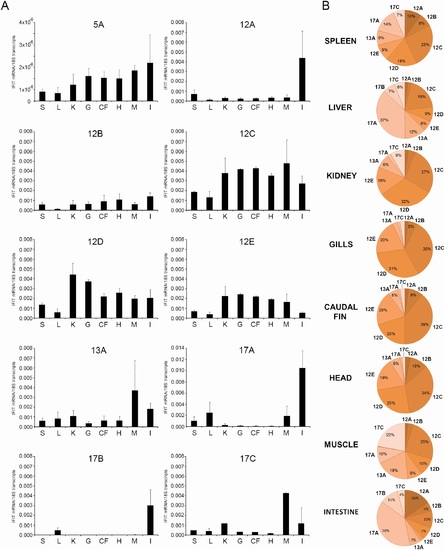 Fig. 3
Tissue-specific expression of zebrafish IFIT genes.
A. Constitutive expression of IFIT genes in tissues of adult zebrafish (S: Spleen; L: Liver; K: Kidney; G: Gill; CF: Caudal fin; H: Head; M: Muscle; I: Intestine). For basal expression of each IFIT form, tissues were sampled and pooled, yielding a total of 4 pools of 5 fish per organ. The relative expression level of each gene, normalized to the expression level of the 18 S ribosomal RNA gene in the same tissue, was expressed as arbitrary units. The graphs represent the mean ± standard error of 4 independent samples. B. Relative proportion of the IFIT transcripts in different zebrafish tissues.
Antibody Labeling Details
No data available
Phenotype Details
No data available
Acknowledgments:
ZFIN wishes to thank the journal PLoS One for permission to reproduce figures from this article. Please note that this material may be protected by copyright. Full text @ PLoS One