ZFIN ID: ZDB-FIG-140307-47
Becker et al., 1998
- not really finished is crucial for development of the zebrafish outer retina and encodes a transcription factor highly homologous to human Nuclear Respiratory Factor-1 and avian Initiation Binding Repressor. Development (Cambridge, England) 125:4369-4378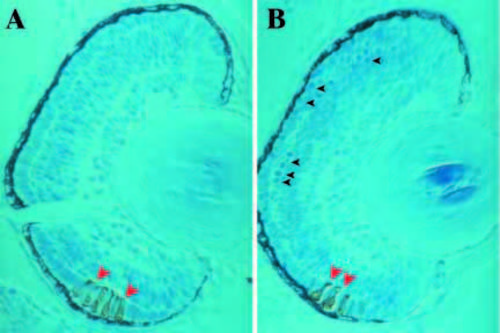 Fig. 7 Frontal sections through retinae at 72 hpf stained with mAB Fret43, which stains photoreceptors after their final mitosis. (A) Wild-type retina is already layered into the major three layers and photoreceptors begin appearing in the ventral patch (red arrowheads). (B) nrf/nrf mutant also shows differentiating red/green cones (red arrowheads) but, in addition in the mutant, multiple rounded cells, not integrated into the tissue are distinguished (small black arrowheads).
Gene Expression Details
No data available
Antibody Labeling Details
Acknowledgments:
ZFIN wishes to thank the journal Development (Cambridge, England) for permission to reproduce figures from this article. Please note that this material may be protected by copyright.