ZFIN ID: ZDB-FIG-130117-5
EXPRESSION / LABELING:
Gene:
Antibodies:
Fish:
Anatomical Terms:
Stage Range:

1-cell

to

Long-pec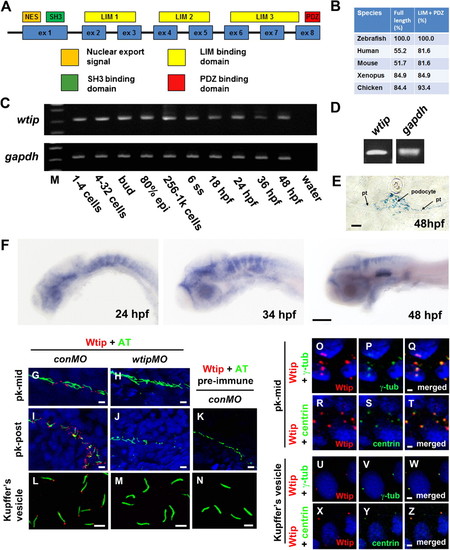 Fig. 1 Zebrafish wtip gene and protein during development.
(A) Zebrafish Wtip domain structure contains one nuclear export signal (NES, orange), one SH3 binding domain (SH3, green), three LIM domains (LIM1-3, yellow) and one PDZ binding domain (PDZ, red). (B) Percentage of amino acid identity between zebrafish Wtip and homologs of WTIP from other species. (C) RT-PCR time course of wtip expression during embryonic development. gapdh was used to control variations in total RNA (C,D). wtip expression was maternally deposited (C) and confirmed in the pronephros by RT-PCR using total RNA from isolated pronephros from 48 hpf embryos (D). (E) Cross-sections of the pronephric glomerulus and tubules. (F) Whole-mount in situ hybridization for wtip on embryos at 24 hpf, 34 hpf, and 48 hpf are side views anterior to the left and dorsal to the top. Zebrafish wtip expression is restricted to the eye, anterior brain, hindbrain, inner ear, and pronephros (E,F). Double immunofluorescence for the cilia marker acetylated α-tubulin (green) and Wtip (red) in confocal projections taken from whole-mount embryos for the middle segment of the pronephros at 24 hpf (G,H), the posterior pronephros at 24 hpf (I,J,K) and KV at the 10-somite stage (L,M,N). DAPI was used to counterstain nuclei (blue). Control embryos for antibody specificity using knockdown mediated by wtipMO of endogeneous Wtip protein translation (H,J,M) and with pre-immune serum (K,N) showed no expression. Localization of Wtip in the basal bodies of cilia was confirmed by double immunostaining with Wtip antibody (red) and either anti-γ-tubulin (P,V, green) or anti-centrin (S,Y, green), which are basal body markers in KV (V,Y, 10-somite stage) and the middle segment of the pronephros (P,S, 24 hpf). Pronephric tubules (pt), acetylated α-tubulin antibody (AT), γ-tubulin antibody (γ-tub), mid-pronephros (pk-mid), and posterior-pronephros (pk-post). Scale bars are 10 μm in E,G–N, 100 μm in F, and 2 μm in O–Z.
Antibody Labeling Details
Phenotype Details
No data available
Acknowledgments:
ZFIN wishes to thank the journal Biology Open for permission to reproduce figures from this article. Please note that this material may be protected by copyright. Full text @ Biol. Open