ZFIN ID: ZDB-FIG-110920-74
Eames et al., 2011
- Mutations in fam20b and xylt1 Reveal That Cartilage Matrix Controls Timing of Endochondral Ossification by Inhibiting Chondrocyte Maturation. PLoS Genetics 7(8):e1002246
Full text @ PLoS Genet.
PHENOTYPE:
| | |
| --- | --- |
| Fish: | |
| Observed In: | |
| Stage: | Day 4 |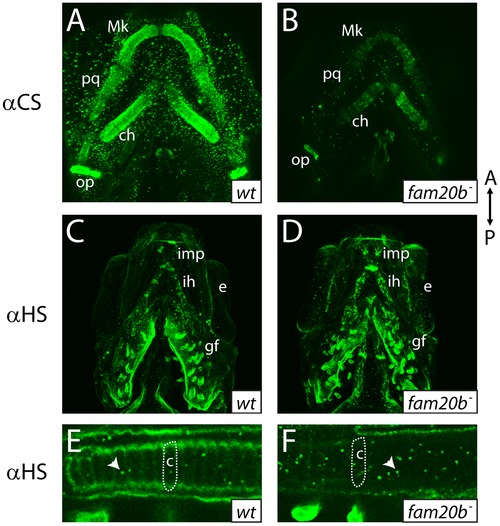 Fig. 6
fam20b mutants display reduced proteoglycan immunoreactivity
A–F, Ventral views of confocal images of embryonic heads immunostained for chondroitin sulfate proteoglycan (CSPG) at 3 dpf (A,B) or heparan sulfate PG (HSPG) at 4 dpf (C–F). Compared to abundant CSPGs detected in wild-type skeletal elements (A), fam20bb1127 mutants showed decreased CSPG immunoreactivity (B). HSPGs were abundant in gill filaments and ventral muscle groups of both wild-type (C) and fam20bb1127 mutant zebrafish (D). HSPG immunoreactivity was reduced greatly around developing chondrocytes of the fam20bb1127 mutant ceratohyal (outline in F), compared to those of wild-type siblings (outline in E). Also, the number of intracellular HSPG aggregates (arrowhead) was increased in fam20bb1127 mutant chondrocytes. Abbreviations: A = anterior; αCS = anti-chondroitin sulfate; αHS = anti-heparan sulfate; c = chondrocyte; ch = ceratohyal; e = eye; gf = gill filament; ih = interhyoideus; imp = intermandibularis posterior; Mk = Meckel′s; op = opercle; P = posterior; pq = palatoquadrate.
Gene Expression Details
No data available
Antibody Labeling Details
Acknowledgments:
ZFIN wishes to thank the journal PLoS Genetics for permission to reproduce figures from this article. Please note that this material may be protected by copyright. Full text @ PLoS Genet.