ZFIN ID: ZDB-FIG-100429-26
EXPRESSION / LABELING:
| | |
| --- | --- |
| Antibody: | |
| Fish: | |
| Condition: | |
| Knockdown Reagents: | |
| Anatomical Terms: | |
| Stage: | Long-pec |
PHENOTYPE:
| | |
| --- | --- |
| Fish: | |
| Condition: | |
| Knockdown Reagents: | |
| Observed In: | |
| Stage: | Long-pec |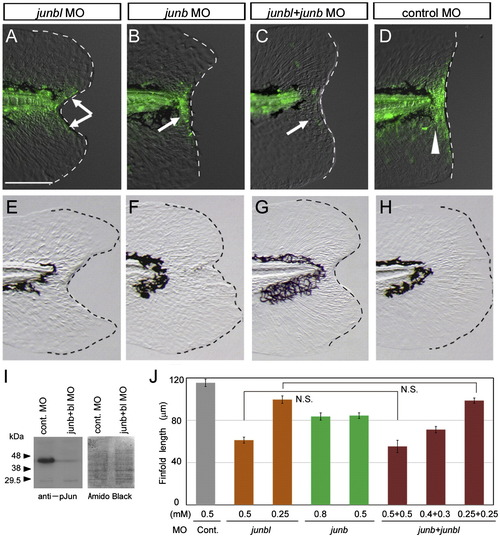 Fig. 5 Impairment of regeneration by the knockdown of Junbl or Junb. (A–D) Reduction in pJun level by knockdown of junbl or junb. In larvae injected with junbl (A) or junb (B) MOs into fertilized eggs, a reduction in the level of pJun at 12 hpa was observed in mesenchymal or epithelial regions, respectively (arrows), whereas the standard control MO (D) did not affect the level (arrowhead). The junbl + junb double knockdown abolished the pJun (C; n = 10), indicating that the knockdown of junbl and/or junb effectively reduced their corresponding protein levels. (E–H) Phenotypes of junbl and junb knockdown at 3 dpa (also see Supplementary Table 1). The junbl knockdown displayed a severe regeneration defect (E), whereas the junb knockdown showed a deformed finfold phenotype accompanying a significant finfold growth (F). The double knockdown produced the same phenotype as the junbl knockdown (G). Although the junbl morphant had a slightly skinny morphology (data not shown), the overall morphology and vitality of these morphants were nearly normal. The scale bar represents 100 μm in (A). (I) Western blot analysis of Junb/bl protein level in the junb + junbl double knocked down larvae (0.5 mM + 0.5 mM). The posterior tissue up to 5 somite segments was collected at 6 hpa, and the Junb/bl protein was detected with the anti-pJun antibody. A duplicated filter was stained with the Amido Black as a loading control. (J) Quantification of regeneration in the knocked down larvae. Regeneration was evaluated by the finfold length posterior to the notochord. Data are presented as the mean ± SEM. Statistical significance was tested by using Student′s t-test. In all cases of junbl and/or junb MO injections, regeneration was significantly reduced (P < 0.001). However, in larvae in which junb and junbl were knocked down, the junb MO had no synergetic effect on junbl MO. N.S., not significant.
Gene Expression Details
No data available
Antibody Labeling Details
Acknowledgments:
ZFIN wishes to thank the journal Developmental Biology for permission to reproduce figures from this article. Please note that this material may be protected by copyright.

Reprinted from Developmental Biology, 340(2), Ishida, T., Nakajima, T., Kudo, A., and Kawakami, A., Phosphorylation of Junb family proteins by the Jun N-terminal kinase supports tissue regeneration in zebrafish, 468-479, Copyright (2010) with permission from Elsevier. Full text @ Dev. Biol.