ZFIN ID: ZDB-FIG-100323-5
PHENOTYPE:
| | |
| --- | --- |
| Fish: | |
| Condition: | |
| Knockdown Reagents: | |
| Observed In: | |
| Stage: | Adult |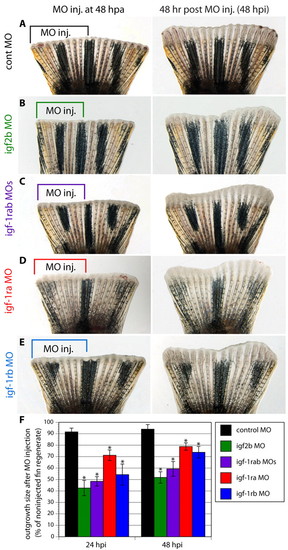 Fig. 3 Morpholino-mediated igf2b and igf1rab knockdowns impair fin regeneration. (A-E) Fins microinjected into their dorsal half with control (A), igf2b (B), igf1ra + igf1rb (C), igf1ra (D) and igf1rb (E) MOs. The remaining non-injected half of the fin served as an internal control to assess the normal growth rate. The left panels show fins shortly after injection and the right panels show the same fins at 48 hpi. The control MO does not affect the size of the outgrowth relative to the uninjected side (A). The specific MOs impair regeneration, leading to an asymmetric shape of the regenerate (B-E). (F) Bar chart comparing the surface of regenerates that regrew within 24 and 48 hours after MO injection in relation to the uninjected fin regenerate. The injected:uninjected regenerate surface is significantly reduced by delivery of specific MOs. n=10 fins per group; *P<0.01.
Gene Expression Details
No data available
Antibody Labeling Details
No data available
Acknowledgments:
ZFIN wishes to thank the journal Development (Cambridge, England) for permission to reproduce figures from this article. Please note that this material may be protected by copyright. Full text @ Development