ZFIN ID: ZDB-FIG-171228-20
EXPRESSION / LABELING:
Genes:
Fish:
Knockdown Reagents:
Anatomical Terms:
Stage Range:

Prim-5

to

Pec-fin
PHENOTYPE:
Fish:
Knockdown Reagents:
Observed In:
Stage Range:

Prim-5

to

Pec-fin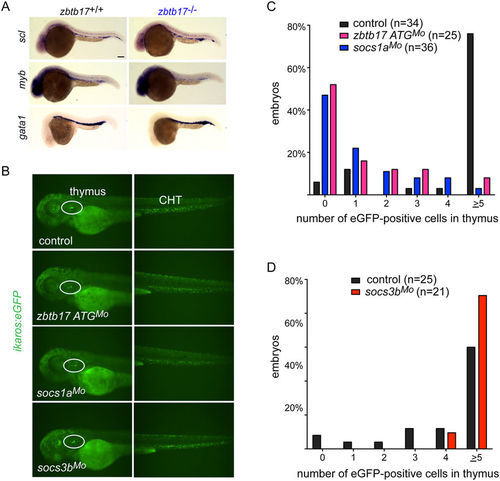 Fig. 4
Unperturbed haematopoietic development in zbtb17 mutants.
(A) Microphotographs of wild-type and zbtb17 mutant embryos after RNA in situ hybridization with the indicated gene-specific probes and at the indicated times of development (scl, 36 hpf; myb, 36 hpf; gata1, 24 hpf). Scale bar, 100 µm (B) Representative microphotographs of control and morphant embryos on the ikaros:eGFP transgenic background to visualize lymphoid progenitors in the thymus and the caudal haematopoietic tissue (CHT) at 63 hpf. (C,D) Thymus homing assay in control and morphant embryos. Summary statistics of cohorts of embryos (examples in (B)) for cell counts at 63 hpf.
Antibody Labeling Details
No data available
Acknowledgments:
ZFIN wishes to thank the journal Scientific Reports for permission to reproduce figures from this article. Please note that this material may be protected by copyright. Full text @ Sci. Rep.