ZFIN ID: ZDB-FIG-171108-37
EXPRESSION / LABELING:
| | |
| --- | --- |
| Antibody: | |
| Fish: | |
| Anatomical Terms: | |
| Stage: | Adult |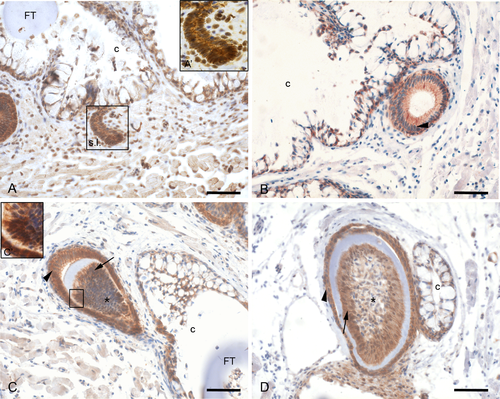 Fig. 4
β-catenin distribution during the development of adult replacement teeth.
A,A': The successional lamina (s.l.) shows expression of β-catenin at the cell membrane and in some nuclei. The mesenchyme also displays nuclear β-catenin. B: β-catenin is detected only at the plasma membrane of the epithelial cells during morphogenesis stage (arrowhead). C: In the enamel organ (arrowhead) β-catenin is expressed at the plasma membrane of cells of both inner and outer dental epithelium. C': The dental papilla (asterisk) shows odontoblasts with membrane-bound and nuclear β-catenin expression. D: During late cytodifferentiation stage, β-catenin remains expressed in both the inner and outer dental epithelium as well as in the polarized odontoblasts (arrow) adjoining the tooth matrix. Orientation: dorsal to the top, ventral to the bottom, medial to the right and lateral to the left of the figure. Additional abbreviations: c: crypt slightly posterior to the tip of the functional predecessor; FT: functional tooth. Scale bars = 50 µm.
Gene Expression Details
No data available
Antibody Labeling Details
Phenotype Details
No data available
Acknowledgments:
ZFIN wishes to thank the journal PLoS One for permission to reproduce figures from this article. Please note that this material may be protected by copyright. Full text @ PLoS One