ZFIN ID: ZDB-FIG-120224-5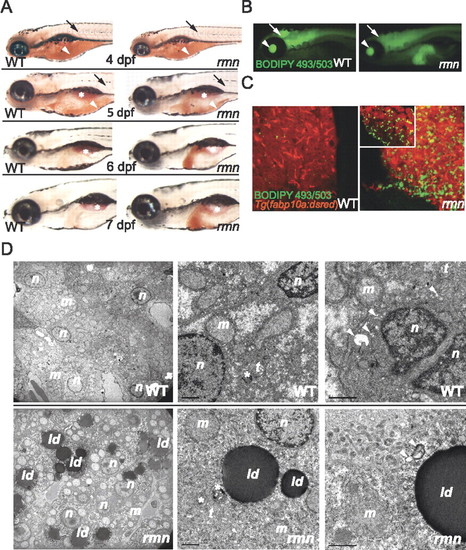 Fig. 1 Identification of the fasting hepatic steatosis mutant rmn. (A) Whole-mount ORO staining of larvae. The yolk lipid (arrowhead) is exhausted 5 dpf. Vascular lipid staining (arrows) ceases by the end of 5 dpf. The surfactant-lined swim bladder stained with ORO (asterisk). (B) Whole-mount BODIPY 493/503 staining of 6-dpf larvae. This dye also stained the vitreous humor of the eyes (arrowhead) and the ventricles of the CNS (arrow). (C) Confocal stacks of livers fixed and stained as in B. A single slice of a rmn mutant liver is shown in the inset. (D) Transmission electron microscopy of liver sections showing that the rmn mutant hepatocytes have cytoplasmic lipid droplets (ld). The nuclear (n) and mitochondrial (m) morphology appears normal in rmn mutants. Higher-magnification micrographs also show multilamellar structures (asterisks) suggestive of multivesicular bodies and elongated tubular (t) precursors of these structures in both wild-type (WT) and the rmn mutant livers. Similarly, autophagosomal structures (arrowheads) were observed in both wild-type and rmn mutant livers. Bar, 1 μm.
Gene Expression Details
No data available
Antibody Labeling Details
No data available
Acknowledgments:
ZFIN wishes to thank the journal Genes & Development for permission to reproduce figures from this article. Please note that this material may be protected by copyright. Full text @ Genes & Dev.