ZFIN ID: ZDB-FIG-090911-3
PHENOTYPE:
| | |
| --- | --- |
| Fish: | |
| Knockdown Reagents: | |
| Observed In: | |
| Stage: | Prim-5 |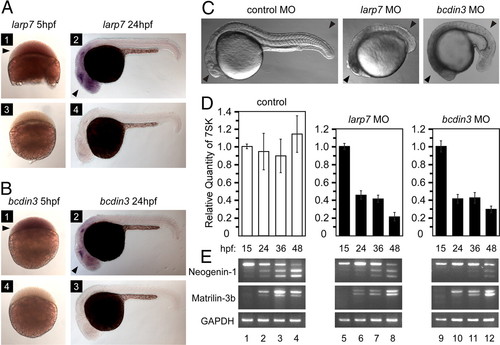 Fig. 5 Knockdown of larp7 and bcdin3 in zebrafish caused developmental defects, decreased 7SK levels, and aberrant splicing. (A and B) RNA in situ hybridizations of whole-mount zebrafish embryos by using larp7 and bcdin3 antisense (1, 2) and sense probes (3, 4) at the indicated time points. Black arrowheads in panels 1 and 2 indicate larp7 and bcdin3 expressions in blastomeres and their enriched expressions in developing brain/head, respectively. (C) Zebrafish embryos injected with either larp7 MO or bcdin3 MO show developmental defects at 24 hpf compared with embryo injected with a control MO. Black arrowheads indicate the developing brain/head and trunk/tail. (D) Relative quantities of 7SK levels were determined by RT-qPCR at the indicated time points below the graph. The error bars represent the mean ± SD. (E) Splicing pattern analysis for the 2 genes indicated on the left at different time points as shown above the agarose gels. Levels of splicing variants were determined by RT-PCR by using the samples as in D and gene-specific primers.
Antibody Labeling Details
No data available
Acknowledgments:
ZFIN wishes to thank the journal Proceedings of the National Academy of Sciences of the United States of America for permission to reproduce figures from this article. Please note that this material may be protected by copyright. Full text @ Proc. Natl. Acad. Sci. USA