ZFIN ID: ZDB-FIG-090814-9
Clendenon et al., 2009
- Cadherin-11 controls otolith assembly: Evidence for extracellular cadherin activity. Developmental dynamics : an official publication of the American Association of Anatomists 238(8):1909-1922
Full text @ Dev. Dyn.
EXPRESSION / LABELING:
| | |
| --- | --- |
| Gene: | |
| Antibody: | |
| Fish: | |
| Knockdown Reagent: | |
| Anatomical Term: | |
| Stage: | Prim-15 |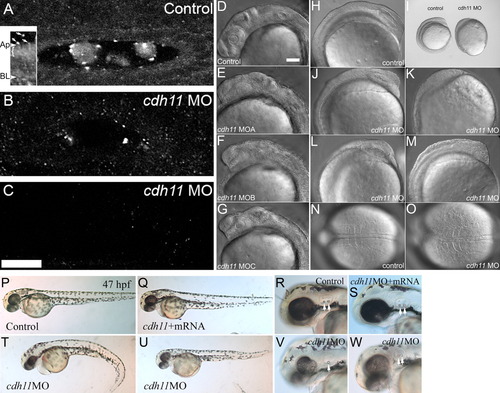 Fig. 1 Morpholino oligonucleotide knockdown reduces Cdh11 expression in zebrafish embryos, causing defects in epiboly, gastrulation, and neural development. Zebrafish were injected with control morpholino oligonucleotide (A) or cdh11 splice-site blocking antisense morpholino oligonucleotide (B, C), and these embryos (30 hpf) were processed for whole-mount immunofluorescence using antibodies raised to Cdh11 peptide sequences. Morpholino oligonucleotide knockdown produces a series of hypomorph phenotypes that were categorized as slight (near normal body length, no tail curl, reduced pigmentation, hindbrain defects), moderate (short body length, slight tail curl, small eyes, small otoliths), and severe (very short body length, tail extremely curled, very small eyes, very small or absent otoliths). Small amounts of Cdh11 staining were detected in slightly affected phenotype embryos (B), but no Cdh11 staining above background was detected in moderate (C) and severe (not shown) embryos. A-C have identical orientation, with rostral to the left and lateral toward the top. All are projection images of five optical sections (0.3-mm-thick) through the middle of the otic vesicle. Otoliths were not minimized by choice of plane in knockdown embryos. Laser power, gain settings, filters, and image processing were identical for A-C. Two-photon imaging was performed using Zeiss LSM510 Meta NLO, C-Apochromatic 40× W 1.2NA objective, TRITC-labeled secondary antibody, 800-nm excitation, and mounted in PBS. Scale bar in C = 25 μm, and applies to A-C. Inset shows an image that was processed to highlight abundant Cdh11 labeling in the apical cytoplasm (bracket) of otic epithelial cells. Apical (Ap) and basal (BL) plasma membrane is indicated. Arrows indicate Cdh11 labeled puncta outside the otic epithelial cells, in the otolymph. Specificity of the Cdh11 peptide antibody was validated by competition of the immunoreaction with the immunizing peptide detected by immunoblot and immunofluorescence (see Supp. Fig. S1). Three morpholino oligonucleotides, cdh11MOA,cdh11MOB, and cdh11MOC, described in the Experimental Procedures section, were designed to hybridize with intron-exon splicing border sequences. These morpholino oligonucleotides were tested for effects on Cdh11 expression and their ability to induce aberrant phenotypes. The three morpholino oligonucleotides produced identical phenotypes (compare control [D] with experimental morpholino-injected [E-G]) and with similar efficacy (not shown). DIC and stereomicroscope images of 8-somite control morpholino oligonucleotide-injected embryos (H, I, N) with cdh11 antisense morpholino oligonucleotide-injected embryos at the same developmental age (15 hpf; I-M, O) were compared. Scale bar in D = 100 μm for D-H, J-O. Defects in epiboly were evident: I shows that the embryo proper completely engulfs the large yolk cell in the control embryo, but the embryo proper is only at around 80-90% epiboly in the cdh11 antisense morpholino oligonucleotide-injected embryo shown in I. The phenotype varied in severity and examples are shown in J-M. Dorsal DIC images of the somites are shown in N and O. In the cdh11 antisense morpholino oligonucleotide-injected embryo shown in O, the somites are compressed in the anterior-posterior axis (left to right) and expanded in the medial-lateral axis, indicative of convergence and extension cell movement defects. P-W: Rescue experiment showing that synthetic cdh11 mRNA injection compensates for morpholino-induced defects. P-R: Embryos (47 hpf) injected with control morpholino closely resemble (nearly indistinguishable from) embryos co-injected with cdh11 morpholino oligonucleotide and synthetic cdh11 mRNA (Q-S). Morphant phenotypes produced by injecting cdh11 morpholino oligonucleotide are shown (V,W): curled tail, reduced neural development, smaller eyes, etc. Higher magnification images show reduced inner ear size, reduced otolith size (arrows highlight otoliths; compare R and S with V and W). Also, a Cdh11 morphant embryo (V) had one small and one missing otolith.
Antibody Labeling Details
No data available
Acknowledgments:
ZFIN wishes to thank the journal Developmental dynamics : an official publication of the American Association of Anatomists for permission to reproduce figures from this article. Please note that this material may be protected by copyright. Full text @ Dev. Dyn.