ZFIN ID: ZDB-FIG-200319-17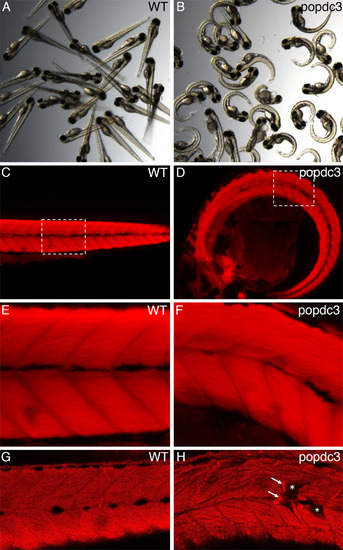 Fig. 6 A popdc3 knockdown in zebrafish results in a muscular dystrophy phenotype. Healthy control zebrafish embryos display a straight tail (A), whereas a majority of popdc3 morphants display a characteristic curly tail (B). Rhodamine phalloidin whole mount–stained tail of a 3dpf healthy control (C) and popdc3 knockdown (D) zebrafish embryo. The areas demarcated by the white boxes are enlarged in (E) and (F) to highlight the normal myofibrillar structure in most embryos. In comparison to the regular structure of the myotome seen in control embryos (G), some popdc3 morphant embryos (H) display a muscular dystrophy phenotype characterized by areas devoid of myofibers (asterisks), which is probably caused by myofiber rupture (arrows). WT = wild‐type.
Gene Expression Details
No data available
Antibody Labeling Details
No data available
Acknowledgments:
ZFIN wishes to thank the journal Annals of neurology for permission to reproduce figures from this article. Please note that this material may be protected by copyright. Full text @ Ann. Neurol.