ZFIN ID: ZDB-FIG-181011-28
Zelinka et al., 2018
- Targeted disruption of the endogenous zebrafish
rhodopsin
locus as models of rapid rod photoreceptor degeneration.. Molecular Vision 24:587-602
PHENOTYPE:
| | |
| --- | --- |
| Fish: | |
| Observed In: | |
| Stage: | Day 6 |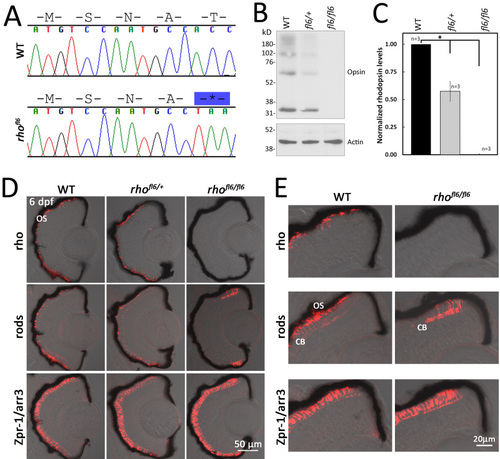 Fig. 2
DNA sequence and histology of rhofl6 encoding a premature stop codon p.17T*. A: Chromatograms overlaid with amino acid sequences comparing WT and rhofl6 allele encoding p.17T*. B: Representative immunoblot analysis of detergent-soluble extracts of retinas from WT, heterozygous rhofl6/+, or homozygous rhofl6/fl6 adults separated by SDS–PAGE, transferred to nitrocellulose, and probed with the 1D1 mab against Rho or mab AC-74 against B-Actin. Immunolabeling of opsin observed as the monomer at 32 kDa and multimers at 64, and 98 kDa were reduced in the heterozygous rhofl6/+ sample and not detected in the homozygous rhofl6/fl6 retina. C: Bar graph of normalized densitometry of immunoblot labeling for Rho (n = 3 animals per genotype), * p<0.025, Kruskal-Wallis test. D: Confocal images of cryosections of retinas from 6 dpf WT, heterozygous rhofl6/+, or homozygous rhofl6/fl6 mutants labeled with antibodies to Rho (1D1, red), rods (4C12, red), or Zpr-1/Arr3a, a selective marker expressed by red/green cones (Zpr-1, red) overlaid with bright-field microscopy. Note the lack of labeling for rods in the central retina and differential labeling for Rho/1D1 and rods/4C12 near the retinal margin of rhofl6/fl6 homozygous larvae, suggesting that rhofl6 is a null allele. E: Higher magnification images of immunolabeling of the dorsal retinal margin WT and homozygous rhofl6/fl6 mutants showing the lack of immunolabeling for Rho, an absence of outer segments (OS), but labeling of the cell bodies (CB) by 4C12 in the homozygous mutant larvae.
Gene Expression Details
No data available
Antibody Labeling Details
No data available
Acknowledgments:
ZFIN wishes to thank the journal Molecular Vision for permission to reproduce figures from this article. Please note that this material may be protected by copyright.