ZFIN ID: ZDB-FIG-170809-24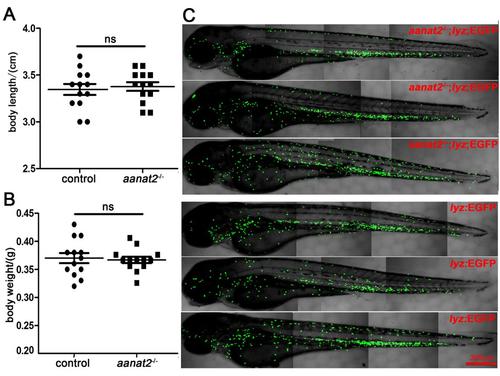 Fig. S1
No significant changes of body length, body weight and neutrophil distribution in aanat2 mutant zebrafish. (A, B) Body length and body weight of adult zebrafish (4 months years old) were not significantly different between the wild type and aanat2 mutant groups (n=13, unpaired Student's t-test). (C) Confocal imaging of the whole larvae (4 days post fertilization) showed that the aanat2 mutation did not cause a change in the visualized neutrophil distribution and number.
Gene Expression Details
No data available
Antibody Labeling Details
No data available
Acknowledgments:
ZFIN wishes to thank the journal Scientific Reports for permission to reproduce figures from this article. Please note that this material may be protected by copyright. Full text @ Sci. Rep.