ZFIN ID: ZDB-FIG-141231-4
Schulte et al., 2014
- Targeted resequencing and systematic in vivo functional testing identifies rare variants in MEIS1 as significant contributors to restless legs syndrome. American journal of human genetics 95:85-95
Full text @ Am. J. Hum. Genet.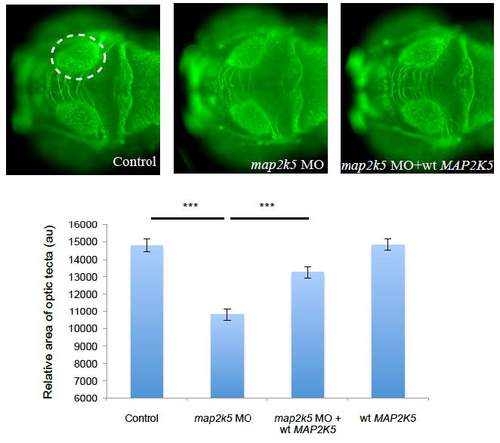 Fig. S5
In vivo complementation and overexpression using human mRNA of MAP2K5, another gene harboring RLS risk alleles identified by means of GWAS3; 4. Suppression of map2k5 results in a reduction of the size of the optic tectum in a similar manner to that seen upon in vivo complementation of MEIS1. Asterisks denote significance levels as determined by Student′s t-test (*** p-value < 0.0001). MO=morpholino, wt=wildtype
Gene Expression Details
No data available
Antibody Labeling Details
No data available
Acknowledgments:
ZFIN wishes to thank the journal American journal of human genetics for permission to reproduce figures from this article. Please note that this material may be protected by copyright. Full text @ Am. J. Hum. Genet.