ZFIN ID: ZDB-FIG-130801-37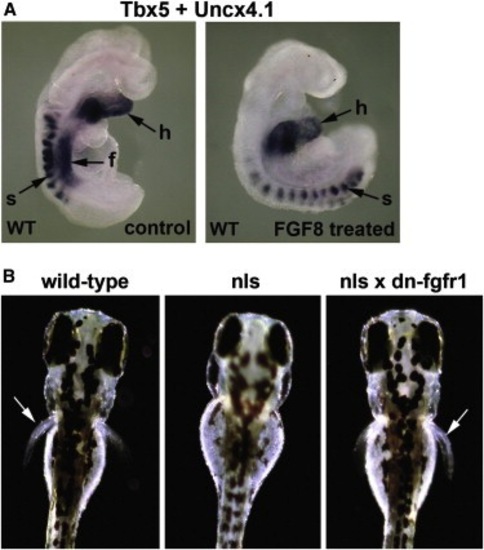 Fig. 6 RA-FGF Antagonism Is Required to Generate the Forelimb Field (A) Assessment of forelimb field Tbx5 expression (f) in control versus FGF8-treated wild-type (WT) embryos cultured in vitro for 12 hr. Heart Tbx5 mRNA (h) and somite Uncx4.1 mRNA (s) are also indicated. (B) Rescue of missing pectoral fins in raldh2 (nls) mutant zebrafish by crossing to heat-shock-inducible dn-fgfr1 transgenic fish (heat shock at 37°C; 8–10 hpf). Arrows indicate pectoral fins. See also Figure S6.
Gene Expression Details
No data available
Antibody Labeling Details
No data available
Acknowledgments:
ZFIN wishes to thank the journal Cell Reports for permission to reproduce figures from this article. Please note that this material may be protected by copyright. Full text @ Cell Rep.