ZFIN ID: ZDB-FIG-130212-13
Coffey et al., 2013
- Novel oxytocin gene expression in the hindbrain is induced by alcohol exposure: transgenic zebrafish enable visualization of sensitive neurons. PLoS One 8(1):e53991
Full text @ PLoS One
EXPRESSION / LABELING:
| | |
| --- | --- |
| Gene: | |
| Fish: | |
| Condition: | |
| Anatomical Terms: | |
| Stage: | Long-pec |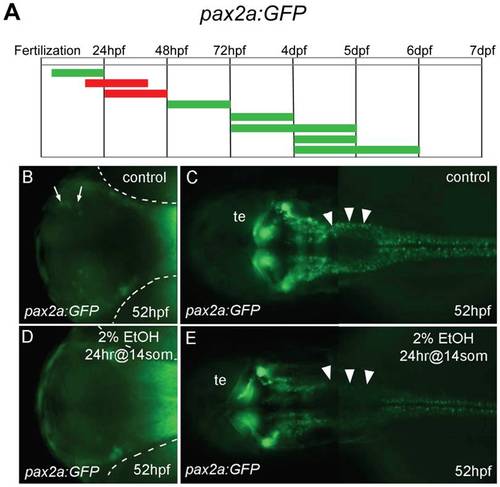 Fig. 3 Forebrain and hindbrain pax2a:GFP positive cells are sensitive to ethanol exposure.
A, the duration and embryonic stage of 2% ethanol treatments illustrated with colored bars for Tg(pax2a:GFP) embryos, as described in Fig. 1. B-E, ventral views (B, D) and dorsal views (C, E) of Tg(pax2a:GFP) embryos at 52 hpf. B, C, are controls. D, E, were treated with 2% ethanol for 24 hrs at the 14 somite stage. B, D, a small, distinct group of neurons in the forebrain (arrows in B) were missing after ethanol exposure (D). The location of the eyes is outlined (dashed white lines). C, E, neurons around the midbrain-hindbrain region were mostly unaffected, hindbrain neurons were drastically reduced (arrowheads), and spinal cord neurons appeared slightly reduced. Tectum (te).
Antibody Labeling Details
No data available
Phenotype Details
No data available
Acknowledgments:
ZFIN wishes to thank the journal PLoS One for permission to reproduce figures from this article. Please note that this material may be protected by copyright. Full text @ PLoS One