ZFIN ID: ZDB-FIG-110622-98
Nevin et al., 2011
- Topoisomerase II{beta} is required for lamina-specific targeting of retinal ganglion cell axons and dendrites. Development (Cambridge, England) 138(12):2457-2465
Full text @ Development
EXPRESSION / LABELING:
| | |
| --- | --- |
| Gene: | |
| Antibody: | |
| Fish: | |
| Anatomical Terms: | |
| Stage: | Day 5 |
PHENOTYPE:
| | |
| --- | --- |
| Fish: | |
| Observed In: | |
| Stage: | Day 5 |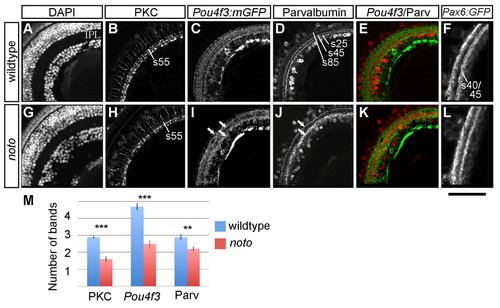 Fig. 1
Fine neurite targeting is disrupted in the 5 dpf noto mutant inner plexiform layer (IPL). (A-L) Representative sections of wild-type (A-F) and mutant (G-L) zebrafish retina. DAPI nuclear stain shows the cellular organization of the retina, including location and width of the IPL (A,G). Protein kinase C (PKC)+ bipolar cells (BCs) project terminals to three IPL sublaminae in wild type (B); in the mutant, outermost sublamina s55 is sparsely innervated (H). Pou4f3:mGFP+ ganglion cell (GC) dendrites innervate five sublaminae in wild type (C); arrows in I show three coarse sublaminae in the mutant IPL (I). Parvalbumin (Parv)+ amacrine cells of the inner nuclear layer (INL) and ganglion cell layer (GCL) project neurites to three sublaminae (s25, s45 and s85) in wild type (D); arrows in J show two broad sublaminae in the mutant (J). Merged images show the relative positions of Pou4f3:mGFP+ and Parv+ IPL sublaminae (E,K). Pax6:mGFP+ amacrine cells project neurites to two IPL bands; the inner band is actually the two fine sublaminae s40 and s45 (F,L). The s40/s45 division is lost in the mutant. Scale bar: 50 µm for A-E,G-K; 30 μm for F,L. (M) Mean number of distinct bands of PKC, Pou4f3:mGFP and Parv immunoreactivity from ten wild-type (blue) and ten mutant (red) retinas. Error bars represent s.e.m. **P<0.01; ***P<0.00001.
Antibody Labeling Details
Acknowledgments:
This image is the copyrighted work of the attributed author or publisher, and ZFIN has permission only to display this image to its users. Additional permissions should be obtained from the applicable author or publisher of the image. Full text @ Development