ZFIN ID: ZDB-FIG-110221-24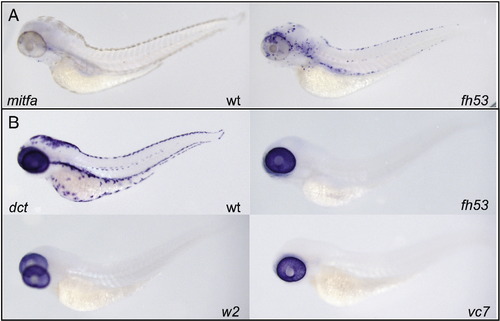 Fig. 5 mitfa is required at multiple steps in melanocyte development. A) mitfa expression persists at restrictive temperature. Wild-type and mitfafh53 larvae are shown. B) No dct is expressed in neural crest cells when held at restrictive temperature, but retinal expression of dct is not affected. Wild-type, mitfaw2, mitfafh53, and mitfavc7 larvae are shown. Embryos were treated with 0.2 mM PTU to suppress melanin synthesis. All larvae are at the equivalent of 82 h at standard temperature.
Antibody Labeling Details
No data available
Phenotype Details
No data available
Acknowledgments:
This image is the copyrighted work of the attributed author or publisher, and ZFIN has permission only to display this image to its users. Additional permissions should be obtained from the applicable author or publisher of the image.

Reprinted from Developmental Biology, 350(2), Johnson, S.L., Nguyen, A.N., and Lister, J.A., mitfa is required at multiple stages of melanocyte differentiation but not to establish the melanocyte stem cell, 405-413, Copyright (2011) with permission from Elsevier. Full text @ Dev. Biol.