ZFIN ID: ZDB-FIG-100506-40
Faucherre et al., 2010
- Multispectral four-dimensional imaging reveals that evoked activity modulates peripheral arborization and the selection of plane-polarized targets by sensory neurons. Development (Cambridge, England) 137(10):1635-1643
Full text @ Development
EXPRESSION / LABELING:
| | |
| --- | --- |
| Gene: | |
| Antibody: | |
| Fish: | |
| Anatomical Terms: | |
| Stage: | Days 7-13 |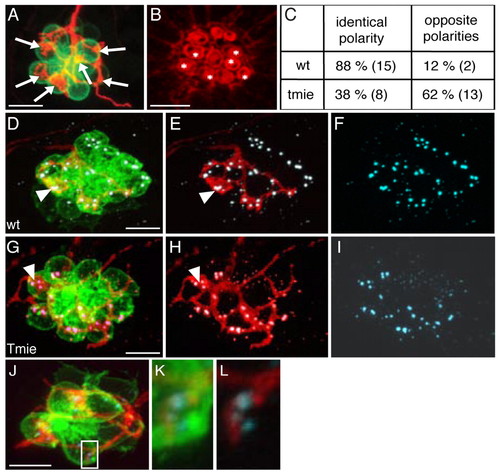 Fig. 6 Afferent neurons from tmie mutants are not strict polarity selectors. (A-C) Analysis of polarity-specific innervation in HuC:mem-TdTomato-injected brn3c:gfp tmie mutants. (A) Maximal projection and (B) phalloidin staining of a neuromast innervated by a single labeled afferent neuron in a tmie mutant. Arrows in A indicate bulged neurites establishing contacts with the hair cells. Asterisks in B indicate the innervated hair cells. (C) The percentage of contacts established between an afferent neuron and hair cells of identical polarity or hair cells of two opposing polarities. The numbers in brackets indicate the number of neuromasts (wild type, n=17; tmie, n=21). (D-L) Immunodetection of ribbon synapses in wild type (D-F) and tmie (G-L) fish using the Ribeye B antibody (cyan). Bulged contacts of afferent neurons expressing TdTomato (red) with hair cells (green) are associated with the presence of synapses in wild type (D-F) and tmie (G-I) fish (arrowheads indicate an example in each case). Thin neurites can also form synapses with hair cells as shown by the presence of Ribeye B staining in the neuromast of a tmie mutant (J-L). The boxed area in J is magnified in K,L. Scale bars: 10 μm in A,D,G,J; 5 μm in B.
Antibody Labeling Details
Phenotype Details
No data available
Acknowledgments:
This image is the copyrighted work of the attributed author or publisher, and ZFIN has permission only to display this image to its users. Additional permissions should be obtained from the applicable author or publisher of the image. Full text @ Development