ZFIN ID: ZDB-FIG-090717-16
EXPRESSION / LABELING:
| | |
| --- | --- |
| Gene: | |
| Fish: | |
| Anatomical Term: | |
| Stage: | Prim-5 |
PHENOTYPE:
| | |
| --- | --- |
| Fish: | |
| Knockdown Reagents: | |
| Observed In: | |
| Stage: | Prim-5 |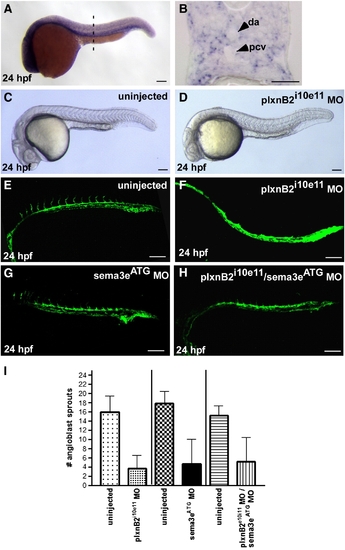 Fig. 3 Angioblast sprouting is delayed in plxnB2i10e11 and plxnB2i10e11/sema3eATG morphants. (A–B) PlxnB2 expression analysis by in situ hybridization shows semi-ubiquitous expression with ventral enrichment in the region surrounding the axial vessels in wholemount (A) and cross section views (B). The dashed line in A indicates the level of the section in B. (C–D) White light images of control (C) and plxnB2i10e11 morphant (D) at 24 hpf. (E–H) Confocal images of uninjected (E), plxnB2i10e11 morphant (F), sema3eATG morphant (G), and plxnB2i10e11/sema3eATG morphant (H) at 24 hpf on a Tg(kdr:GFP)la116 genetic background. (I) Graphical representation of the mean number and standard deviation of angioblast sprouts observed in plxnB2i10e11 morphants, sema3eATG morphants, and plxnB2i10e11/sema3eATG morphants as compared to control embryos. Scale bar in A, C–H is 100 μm and 30 μm in B.
Antibody Labeling Details
No data available
Acknowledgments:
This image is the copyrighted work of the attributed author or publisher, and ZFIN has permission only to display this image to its users. Additional permissions should be obtained from the applicable author or publisher of the image.

Reprinted from Developmental Biology, 331(2), Lamont, R.E., Lamont, E.J., and Childs, S.J., Antagonistic interactions among Plexins regulate the timing of intersegmental vessel formation, 199-209, Copyright (2009) with permission from Elsevier. Full text @ Dev. Biol.