Enhancer Trap Construct
Et(GAL4-VP16,myl7:GFP)
ID

ZDB-ETCONSTRCT-120604-1

Name

Et(GAL4-VP16,myl7:GFP)

Previous Names

Et(Gal4-VP16)
Et(bp:Gal4VP16) (1)
Et(Gal4-VP16,myl7:GFP)

Type

Regulatory Regions

Coding Sequences

Contains Sequences

None

Note

This enhancer trapping construct is based on pDestTol2CG3, a multisite-Gateway-based plasmid. It contains a minimal adenovirus E1b promoter driving Gal4VP16 (Gal4 DNA-binding domain fused to the VP16 transcriptional activation domain) followed by the late SV40 polyA signal sequence. Following (3' to) the enhancer trapping construct is a transgene marker: the cmlc2 promoter driving EGFP followed by the SV40 late polyA signal sequence; this marks the heart with green fluorescence. The enhancer trapping construct and the transgene marker are in a tail-to-tail orientation such that they drive transcription in opposite directions. The entire cassette (enhancer trapping construct + transgene marker) is flanked by miniTol2 transposon ends (Balciunas et al., 2006).
Plasmid Map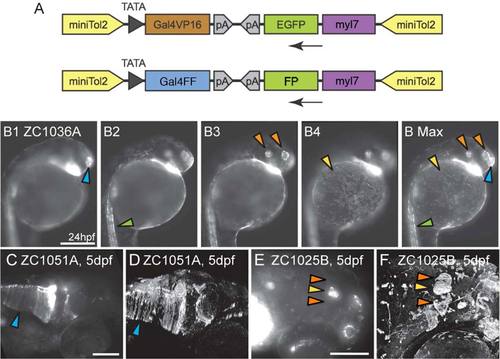 Genomic Features
That Utilize Et(GAL4-VP16,myl7:GFP) Construct
Transgenics
That Utilize Et(GAL4-VP16,myl7:GFP) Construct
| Fish | Affected Genomic Regions | Phenotype | Gene Expression |
| --- | --- | --- | --- |
| c264Tg/+; zc1000aEt/+ | | | |
| c264Tg/+; zc1004aEt/+ | | | |
| c264Tg/+; zc1008aEt/+ | | | |
| c264Tg/+; zc1009aEt/+ | | | |
| c264Tg/+; zc1012aEt/+ | | | |
| c264Tg/+; zc1013aEt/+ | | | |
| c264Tg/+; zc1015aEt/+ | | | |
| c264Tg/+; zc1016aEt/+ | | | |
| c264Tg/+; zc1016cEt/+ | | | |
| c264Tg/+; zc1017aEt/+ | | | |
| c264Tg/+; zc1018aEt/+ | | | |
| c264Tg; zc1000aEt | | | 8 figures from Hutcheson et al., 2013 |
| c264Tg; zc1002aEt | | | 5 figures from Hutcheson et al., 2014 |
| c264Tg; zc1003aEt | | | 7 figures from Hutcheson et al., 2014 |
| c264Tg; zc1004aEt | | | 10 figures from 2 publications |
| c264Tg; zc1006aEt | | | 7 figures from Hutcheson et al., 2014 |
| c264Tg; zc1008aEt | | | 6 figures from Hutcheson et al., 2013 |
| c264Tg; zc1009aEt | | | 12 figures from 2 publications |
| c264Tg; zc1010aEt | | | 9 figures from Hutcheson et al., 2014 |
| c264Tg; zc1012aEt | | | 10 figures from Hutcheson et al., 2013 |
| c264Tg; zc1013aEt | | | 8 figures from Hutcheson et al., 2013 |
| c264Tg; zc1015aEt | | | 6 figures from Hutcheson et al., 2013 |
| c264Tg; zc1016aEt | | | 11 figures from Hutcheson et al., 2013 |
| c264Tg; zc1016cEt | | | 9 figures from 2 publications |
| c264Tg; zc1016dEt | | | 3 figures from Hutcheson et al., 2014 |
| c264Tg; zc1017aEt | | | 6 figures from Hutcheson et al., 2013 |
| c264Tg; zc1018aEt | | | 10 figures from Hutcheson et al., 2013 |
| c264Tg; zc1019aEt | | | 7 figures from 2 publications |
| c264Tg; zc1019bEt | | | 7 figures from Hutcheson et al., 2014 |
| c264Tg; zc1020aEt | | | 7 figures from Hutcheson et al., 2014 |
| c264Tg; zc1020bEt | | | 5 figures from Hutcheson et al., 2014 |
| c264Tg; zc1021aEt | | | 6 figures from Hutcheson et al., 2014 |
| c264Tg; zc1022aEt | | | 4 figures from Hutcheson et al., 2014 |
| c264Tg; zc1022bEt | | | 7 figures from 2 publications |
| c264Tg; zc1023aEt | | | 7 figures from Hutcheson et al., 2014 |
| c264Tg; zc1023bEt | | | 8 figures from Hutcheson et al., 2014 |
| c264Tg; zc1023dEt | | | 6 figures from Hutcheson et al., 2014 |
| c264Tg; zc1024aEt | | | 5 figures from 2 publications |
| c264Tg; zc1025aEt | | | 10 figures from 2 publications |
| c264Tg; zc1025bEt | | | 10 figures from 2 publications |
| c264Tg; zc1025dEt | | | 8 figures from Hutcheson et al., 2014 |
| c264Tg; zc1026aEt | | | 6 figures from Hutcheson et al., 2014 |
| c264Tg; zc1028aEt | | | |
| c264Tg; zc1029eEt | | | 5 figures from 2 publications |
| c264Tg; zc1030aEt | | | 8 figures from 2 publications |
| c264Tg; zc1031aEt | | | 16 figures from 2 publications |
| c264Tg; zc1032aEt | | | 9 figures from 2 publications |
| c264Tg; zc1033aEt | | | 11 figures from 2 publications |
| c264Tg; zc1034aEt | | | 9 figures from 2 publications |
| c264Tg; zc1035aEt | | | 9 figures from 2 publications |
| c264Tg; zc1036aEt | | | 9 figures from 2 publications |
| c264Tg; zc1037aEt | | | 9 figures from 2 publications |
| c264Tg; zc1037bEt | | | 12 figures from 2 publications |
| c264Tg; zc1037cEt | | | 5 figures from Hutcheson et al., 2014 |
| c264Tg; zc1038aEt | | | 5 figures from Hutcheson et al., 2014 |
| c264Tg; zc1039aEt | | | 13 figures from Hutcheson et al., 2014 |
| c264Tg; zc1039bEt | | | 7 figures from Hutcheson et al., 2014 |
| c264Tg; zc1040aEt | | | 8 figures from Hutcheson et al., 2014 |
| c264Tg; zc1040bEt | | | 9 figures from Hutcheson et al., 2014 |
| c264Tg; zc1041aEt | | | 8 figures from Hutcheson et al., 2014 |
| c264Tg; zc1042aEt | | | 14 figures from 2 publications |
| c264Tg; zc1044aEt | | | 10 figures from Hutcheson et al., 2014 |
| c264Tg; zc1046aEt | | | 5 figures from Hutcheson et al., 2014 |
| c264Tg; zc1047aEt | | | 7 figures from Hutcheson et al., 2014 |
| c264Tg; zc1048aEt | | | 12 figures from Hutcheson et al., 2014 |
| c264Tg; zc1049aEt | | | 7 figures from Hutcheson et al., 2014 |
| c264Tg; zc1050aEt | | | 8 figures from Hutcheson et al., 2014 |
| c264Tg; zc1051aEt | | | 14 figures from 2 publications |
| c264Tg; zc1052aEt | | | 7 figures from Hutcheson et al., 2014 |
| c264Tg; zc1052bEt | | | 6 figures from Hutcheson et al., 2014 |
| c264Tg; zc1053aEt | | | 9 figures from 2 publications |
| c264Tg; zc1054aEt | | | 8 figures from Hutcheson et al., 2014 |
| c264Tg; zc1055aEt | | | 14 figures from Hutcheson et al., 2014 |
| c264Tg; zc1055bEt | | | 7 figures from Hutcheson et al., 2014 |
| c264Tg; zc1056aEt | | | 8 figures from Hutcheson et al., 2014 |
| c264Tg; zc1057aEt | | | 6 figures from Hutcheson et al., 2014 |
| c264Tg; zc1059aEt | | | |
| c264Tg; zc1059bEt | | | |
| c264Tg; zc1060aEt | | | 8 figures from Hutcheson et al., 2014 |
| c264Tg; zc1062aEt | | | 5 figures from Hutcheson et al., 2014 |
| c264Tg; zc1062bEt | | | 11 figures from Hutcheson et al., 2014 |
| c264Tg; zc1063aEt | | | 11 figures from 2 publications |
| c264Tg; zc1063bEt | | | 10 figures from Hutcheson et al., 2014 |
| c264Tg; zc1064aEt | | | |
| c264Tg; zc1065aEt | | | 9 figures from Hutcheson et al., 2014 |
| c264Tg; zc1066aEt | | Fig. 5 from Otsuna et al., 2015 | 10 figures from 2 publications |
| c264Tg; zc1067aEt | | | 11 figures from Hutcheson et al., 2014 |
| c264Tg; zc1068aEt | | | 5 figures from Hutcheson et al., 2014 |
| c264Tg; zc1069aEt | | | 8 figures from Hutcheson et al., 2014 |
| c264Tg; zc1070aEt | | | 9 figures from Hutcheson et al., 2014 |
| c264Tg; zc1071aEt | | | 10 figures from Hutcheson et al., 2014 |
| c264Tg; zc1072aEt | | | 11 figures from Hutcheson et al., 2014 |
| c264Tg; zc1073aEt | | | |
| c264Tg; zc1074bEt | | | 11 figures from Hutcheson et al., 2014 |
| c264Tg; zc1075aEt | | | 2 figures from Hutcheson et al., 2014 |
| c264Tg; zc1076aEt | | | 11 figures from Hutcheson et al., 2014 |
| c264Tg; zc1077aEt | | | 11 figures from Hutcheson et al., 2014 |
| c264Tg; zc1085aEt | | | 11 figures from Hutcheson et al., 2014 |
| c264Tg; zc1086aEt | | | 9 figures from Hutcheson et al., 2014 |
| c264Tg; zc1094aEt | | | |
| jh17Tg; w32Tg; zc1066aEt | | Fig. 4 from Wang et al., 2012 | Fig. 4 from Wang et al., 2012 |
| jh17Tg; w34Tg; zc1066aEt | | Fig. 4 from Wang et al., 2012 | Fig. 4 from Wang et al., 2012 |
| jh17Tg; zc1066aEt | | | Fig. 4 from Wang et al., 2012 |
| nkuasgfp1aTg/+; zc1007aEt/+ | | | |
| nkuasgfp1aTg/+; zc1011aEt/+ | | | |
| nkuasgfp1aTg; zc1007aEt | | | 11 figures from Hutcheson et al., 2013 |
| nkuasgfp1aTg; zc1011aEt | | | 5 figures from Hutcheson et al., 2013 |
| nkuasgfp1aTg; zc1022bEt | | | |
| nkuasgfp1aTg; zc1033aEt | | | |
| nkuasgfp1aTg; zc1036aEt | | | |
| nkuasgfp1aTg; zc1037cEt | | | |
| nkuasgfp1aTg; zc1040aEt | | | |
| nkuasgfp1aTg; zc1060aEt | | | |
| s1999tTg; zc1044aEt + MO1-piezo1 | | Fig. S10 from Eisenhoffer et al., 2012 | Fig. S10 from Eisenhoffer et al., 2012 |
| s1999tTg; zc1052bEt | | | |
| s1999tTg; zc1076aEt | | | |
| s1999tTg; zc1077aEt | | | |
| zc1002aEt | | | |
| zc1002aEt/+ | | | |
| zc1003aEt | | | |
| zc1003aEt/+ | | | |
| zc1006aEt | | | |
| zc1006aEt/+ | | | |
| zc1010aEt | | | |
| zc1010aEt/+ | | | |
| zc1016dEt | | | |
| zc1016dEt/+ | | | |
| zc1021aEt | | | |
| zc1038aEt | | | |
| zc1046aEt | | | |
| zc1062aEt | | | |
| zc1065aEt | | | |
| zc1094aEt | | | |
Other Construct Pages
None