ZFIN ID: ZDB-FIG-190501-69
Tabor et al., 2018
- Brain-wide cellular resolution imaging of Cre transgenic zebrafish lines for functional circuit-mapping. ZFIN Direct Data Submission
EXPRESSION / LABELING:
| | |
| --- | --- |
| Gene: | |
| Fish: | |
| Anatomical Terms: | |
| Stage: | Day 4 |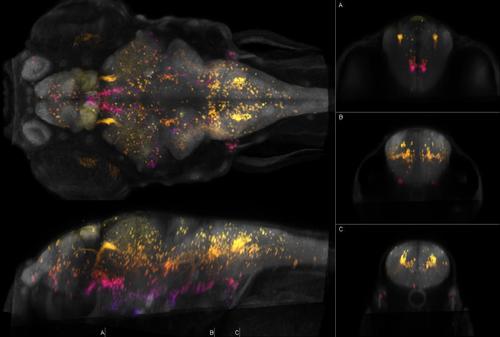 Fig.69 Left: dorsal and sagittal maximal confocal projections from Zebrafish Brain Browser. Right: coronal slices at the indicated levels. Depth coded by color. Intensity represents mean expression in larvae transgenic for y512Et and Tg(UAS:Kaede)s1999t which expresses Kaede in optic tract - af9, hypothalamus - rostral zone, locus coeruleus, vagus motor neurons, facial octavolateralis motor neurons, aLLg, pLLg, lateral line, statoacoustic ganglion, heart (weak), muscle, notochord (weak), pectoral fin
Antibody Labeling Details
No data available
Phenotype Details
No data available
Acknowledgments:
ZFIN wishes to thank the journal ZFIN Direct Data Submission for permission to reproduce figures from this article. Please note that this material may be protected by copyright.