ZFIN ID: ZDB-FIG-190501-138
Tabor et al., 2018
- Brain-wide cellular resolution imaging of Cre transgenic zebrafish lines for functional circuit-mapping. ZFIN Direct Data Submission
EXPRESSION / LABELING:
| | |
| --- | --- |
| Gene: | |
| Fish: | |
| Anatomical Term: | |
| Stage: | Day 4 |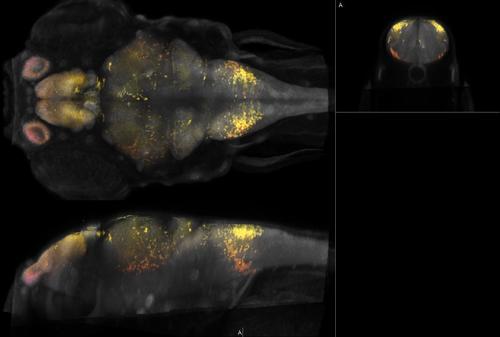 Fig.138 Left: dorsal and sagittal maximal confocal projections from Zebrafish Brain Browser. Right: coronal slices at the indicated levels. Depth coded by color. Intensity represents mean expression in larvae transgenic for y521Et and Tg(bActin:Switch)y252 which expresses TagRFPT in medulla oblongata (caudal area)
Antibody Labeling Details
No data available
Phenotype Details
No data available
Acknowledgments:
ZFIN wishes to thank the journal ZFIN Direct Data Submission for permission to reproduce figures from this article. Please note that this material may be protected by copyright.