Enhancer Trap Construct
Et1(E1B:GAL4FF,myl7:GFP)
ID

ZDB-ETCONSTRCT-130724-2

Name

Et1(E1B:GAL4FF,myl7:GFP)

Previous Names

Et(bp:Gal4FF-CG) (1)
Et1(E1b:Gal4FF, myl7:GFP)
Et1(E1b:GAL4FF, myl7:GFP)
Et1(E1b:GAL4FF,myl7:GFP)

Type

Regulatory Regions

Coding Sequences

Contains Sequences

None

Note

This enhancer trapping construct is based on pDestTol2CG3, a multisite-Gateway-based plasmid. It contains a minimal adenovirus E1b promoter driving Gal4FF (Gal4 DNA-binding domain fused to a duplicated portion of the VP16 transcriptional activation domain; Asakawa et al., 2008) followed by the late SV40 polyA signal sequence. Following (3' to) the enhancer trapping construct is a transgene marker: the cmlc2 promoter driving EGFP followed by the SV40 late polyA signal sequence; this marks the heart with green fluorescence. The enhancer trapping construct and the transgene marker are in a tail-to-tail orientation such that they drive transcription in opposite directions. The entire cassette (enhancer trapping construct + transgene marker) is flanked by miniTol2 transposon ends (Balciunas et al., 2006).
Plasmid Map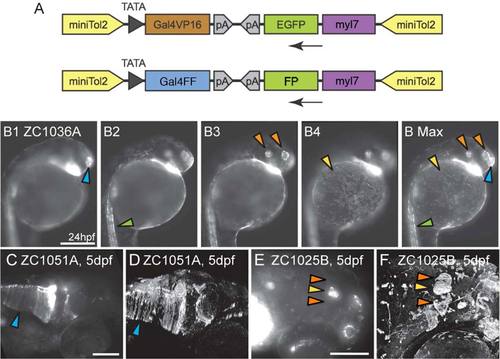 Genomic Features
That Utilize Et1(E1B:GAL4FF,myl7:GFP) Construct
Transgenics
That Utilize Et1(E1B:GAL4FF,myl7:GFP) Construct
Other Construct Pages
None