Fig. 3 ZFIN is incorporating published figure images and captions as part of an ongoing project. Figures from some publications have not yet been curated, or are not available for display because of copyright restrictions.
EXPRESSION / LABELING:
Gene:
Fish:
Anatomical Term:
Stage Range:

1-cell

to

Day 4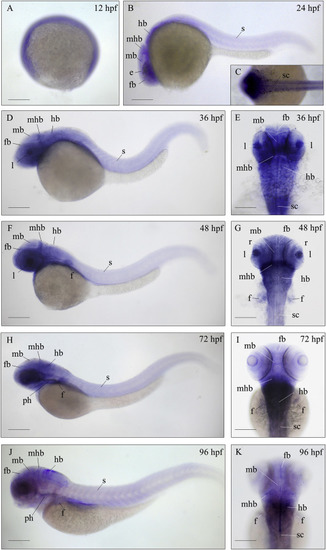 Fig. 4
The expression pattern of endouC transcript during the development of zebrafish embryos. Embryos at different stages as indicated were collected and hybridized with endouC probe using whole-mount in situ hybridization. Panels A, B, D, F, H, and J were lateral views with anterior of embryo on the left; panel C was dorsal view with anterior of embryo on the left; panel E, G, I and K were dorsal views with anterior of embryos on the top. At 12 hpf, endouC was expressed in whole embryo. At 24 hpf, endouC was highly expressed in head, including forebrain (fb), midbrain (mb), midbrain hibrain boundary (mhb), and hindbrain (hb). The endouC transcript was also detected in somite (s) during 24–96 hpf. f, fin bud; sc, spinal cord; r, retina; e: eyes; l, lens; ph, pharynx. Scale bar: 100μm.
Acknowledgments:
ZFIN wishes to thank the journal Gene expression patterns : GEP for permission to reproduce figures from this article. Please note that this material may be protected by copyright.

Reprinted from Gene expression patterns : GEP, 25-26, Lee, H.C., Fu, C.Y., Zeng, C.W., Tsai, H.J., Embryonic expression patterns of Eukaryotic EndoU ribonuclease family gene endouC in zebrafish, 66-70, Copyright (2017) with permission from Elsevier. Full text @ Gene Expr. Patterns